Rehelio Samuel, who served as Lawrence's director of human relations for 34 years, is being remembered for his work in resolving racial conflicts during one of the most turbulent times for race relations in the community.
Samuel died May 11 at age 81.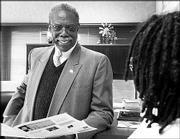 "Because of his work in the early years, Lawrence, Kansas, is a better place for human and civil rights compliance today because of Ray Samuel," said William Minner, a longtime friend and recently retired director of the Kansas Human Rights Commission.
Samuel was born April 16, 1933, in St. Thomas, Virgin Islands, the son of Joseph Valdemar and Ellen (Thomas) Samuel. After serving 20 years in the military, he moved to Lawrence in 1972 to become director of the city's Human Relations Commission.
That was the same year Minner was hired as an investigator at the state Human Rights Commission. Both agencies were established to investigate discrimination complaints and to attempt to resolve those complaints before lawsuits were filed in court.
Those were turbulent times in Lawrence, and elsewhere in Kansas, that were marked by violent anti-war protests on the Kansas University campus as well as student walkouts staged at Lawrence High School in protest over discriminatory treatment of black students.
"And Mr. Samuel was right there in that conflict," Minner recalled. "There were a lot of things occurring about some of the businesses in Lawrence - complaints he was receiving from students that dealt with a lot of situations off campus like housing and public accommodations."
Minner said Samuel dealt with complaints about discrimination from bars and nightclubs that reportedly would charge higher cover charges for black customers, or enforce stricter dress codes, in an effort to keep them out of the establishments. Some businesses also were accused of refusing to play music that was popular at the time among black audiences.
As head of the city's Human Relations Commission, Minner said, Samuel "had to walk a delicate line" between the minority community that looked to the commission to enforce anti-discrimination laws, and the city manager at the time who was under pressure from the business community to make the complaints go away.
As a result, he said, Samuel developed a conciliatory style that enabled him to negotiate and mediate settlements to most of the disputes that came before the city agency.
"Our purpose isn't to hammer someone over the head," Samuel told the Journal-World in a 2007 interview about his retirement. "It is to make this a better place. That's what got me into this business, and that's what kept me in it for so long."
Jean Shepherd, a retired district judge in Lawrence who was a practicing attorney at that time, said she had a client who was the target of one such complaint in the early 1980s.
"That's when I first met Ray," she said this week. "It was real clear when I walked in for that hearing. I didn't know what to expect. But he was gracious and welcoming and listened to what everyone had to say. He was very fair."
Samuel continued to serve as the agency director until his retirement in 2007, making him one of the longest-serving department heads in the history of Lawrence city government.
Over the years, he received numerous awards and recognitions for his work at the commission. He also served on the boards of numerous civic organizations, including the Douglas County Red Cross, Douglas County United Way, Ballard Community Center, Pride Inc., Eastern Central Kansas Community Action Agencies, Citizens School Issues Forum, Summer Teen Employment Program and The Reverend Dr. Martin Luther King Federal Commission.
His funeral services will be at 11 a.m. Saturday, at Warren-McElwain Mortuary in Lawrence, followed by a military graveside service at Oak Hill Cemetery.
Copyright 2018 The Lawrence Journal-World. All rights reserved. This material may not be published, broadcast, rewritten or redistributed. We strive to uphold our values for every story published.