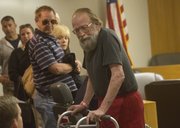 Larry Hopkins told a judge Thursday that less than two weeks short of their 24th wedding anniversary he gave his ailing wife a final gift.
"I gave Margaret the last gift I could: I didn't let her wake up," Hopkins said of the Nov. 5, 2013, shooting of his wife, Margaret Hopkins, in their north-central Lawrence home. "I will not try to deny that I pulled the trigger, or that I made the decision not to let Margaret wake up."
Hopkins, 67, read a four-page written statement on Thursday before District Judge Michael Malone sentenced him to life in prison without the possibility of parole for 25 years.
Before reading Hopkins' sentence, Malone said that the law required that he impose a life sentence without parole eligibility for 25 years. "I wish you well, sir," Malone said.
Friends and family traveled to be in the courtroom Thursday. They sat behind Hopkins, who was allowed to stay seated as he read a statement that began with meeting his wife on a blind date and getting married 100 days later.
Hopkins said his wife suffered from Type-2 diabetes before enduring multiple strokes, knee replacement surgeries and countless falls — one of which shattered her left femur. "She went from being an independent geriatric social worker to Social Security Disability and a wheelchair and walker," Hopkins said.
Hopkins said he suffered a stroke of his own after retiring from the Spencer Research Library in 2009. After rehab, calls to 911 replaced the care Hopkins once provided whenever Margaret fell. Once he regained enough strength, he said, he began asking neighbors for help. But around 2010, Hopkins underwent quadruple bypass surgery and, by 2013, Margaret's condition had deteriorated further. Hopkins said his wife needed help getting in and out of bed and the shower and that he was too weak to help her much of the time.
Calm throughout much of his statement, Hopkins' voice rose as he neared the end. "I will maintain until my dying day that Medicare killed my wife!" he said, slamming his paper down. Hopkins claimed Medicare would not cover a place for Margaret to stay after she was released from the hospital.
But District Attorney Charles Branson said Thursday that days before the shooting, a health care official was at their home to discuss housing options. Branson said Hopkins told investigators that he "didn't want to sell off everything he owned and go someplace to die."
"This did not have to be the final solution," Branson said.
Also Thursday, Assistant District Attorney Andrew Bauch, who prosecuted the case, said that because Hopkins made his decision without Margaret's knowledge, he was charged with first-degree murder. Hopkins pleaded no contest to the charge in March after rejecting a plea offer that would have reduced the charge to felony murder and criminal discharge of a firearm. The deal would have produced a sentence of life with parole eligibility in 20 years instead of 25.
Among those in the courtroom Thursday was Hopkins' younger sister, Melissa Quigley, who traveled from Wichita with her husband for the sentencing. She said that though their family was aware of the Hopkinses' health issues, no one had any idea how bad it all became. She said she thought her brother worried about how Margaret would be cared for if anything happened to him.
"He never tired taking care of Margaret simply because he loved her and that was his wife," Quigley said. "But it was more and more and more he was having to take care of her. I'm sure he felt like he failed her at times because he wasn't able to do as much as he could for her."
Copyright 2018 The Lawrence Journal-World. All rights reserved. This material may not be published, broadcast, rewritten or redistributed. We strive to uphold our values for every story published.