Photo Gallery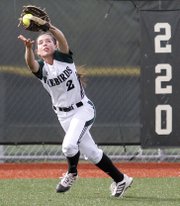 Free State vs Lawrence High softball
The Free State girls softball team defeated the Lawrence Lions 4-3 Wednesday evening at FSH.
World Company Cup
Here are the current standings for the World Company Cup, which tallies head-to-head results involving the city's two large-class high schools. In sports that do not compete head-to-head, a point is awarded to the team that fares better in the league meet.
FSHS LHS
Football 1 0
Volleyball 0 1
Boys soccer 0 1
Girls tennis 1 0
Girls golf 1 0
Boys cross country 1 0
Girls cross country 1 0
Gymnastics 1 0
Boys swimming 1 0
Boys basketball 0 2
Girls basketball 2 0
Wrestling 0 1
Boys bowling 0 1
Girls bowling 0 1
Boys tennis 1 0
Softball 1 1
Girls swimming 1 0
Girls soccer 1 0
Baseball 1 0
Boys golf 1 0
Boys track 1 0
Girls track 0 1
Totals 16 9
-->
-->
The latest chapter in the softball City Showdown had all of the twists and turns everybody has come to expect between the two rivals.
Free State High sophomore Emily Byers had just watched Lawrence High tie the game in the top of the seventh inning and found herself at the plate with two outs and the winning run on second base.
Byers fell behind in the count before hitting a single to center field, scoring junior Kylie Cobb and helping the Firebirds beat the Lions, 4-3, on Wednesday at FSHS in their regular-season finale.
"It felt good, and I had confidence," Byers said. "I knew Kylie was a good runner ... so I knew I just had to find a gap and she'd be in."
The Firebirds (10-10) trailed 2-1 in the bottom of the sixth inning before senior Whitney Rothwell hit a one-out double. After a strikeout, LHS starter Jolona Shield fielded a ground ball to end the inning, but Lions' first baseman Kristen Gile couldn't handle the throw, and Rothwell's pinch-runner, Carrie Howland, scored to tie the game.
Senior Remington Samuels, who reached on the fielding error, eventually scored on a wild pitch to give Free State a one-run advantage.
Then it was the Lions' turn to respond.
LHS (11-7) was down to its last out in the seventh inning when freshman Annie Grammer hit a single to center. The next batter, Morgan Byrn, battled in a full count before smashing a double down the left-field line to score Grammer and tie the game.
In the bottom half of the inning, Cobb hit a two-out double near the right-field line to set up Byers' heroics.
"This is what I was hoping the game would have been like (Tuesday) — pitching, defense and timely hitting," FSHS coach Lee Ice said. "That's what we got today. We finally got a timely hit, and that's what we've been missing."
The Lions only managed two hits in the first three innings against starter Kaley Delg, who forced them into plenty of routine groundouts and was effective against an offense that had 18 hits Tuesday.
"We came out flat," Lions coach Joe Dee Tarbutton said. "Before the start of the game, I told the girls, 'I wish there was some magic switch you could always just come flick,' because just coming in here I could just feel it in the air."
Tarbutton said the loss will probably cost the Lions a chance at hosting a regional game, but for the Firebirds, it was a chance to avenge all the bad feelings from their 13-3 loss to LHS a day earlier.
"I'm very proud of the kids," said Ice, after Free State snapped a five-game losing streak. "We talked about competing. We talked about short memories and, 'Forget about what happened (Tuesday) because it's a new day and anything can happen.' I'm very happy for them and the seniors today."
The Lions will play at Shawnee Mission North at 4:15 p.m. today.
Lawrence 000 200 1 — 3 7 3
Free State 100 002 1 — 4 9 1
W — Kaley Delg, 6-4. L — Jolona Shield, 6-3.
2B — Morgan Byrn, Marly Carmona, Jolona Shield, LHS; Kylie Cobb, Whitney Rothwell, FS.
Free State highlights — Delg, 7 IP, 7 H, 2 ER, 0 BB, 2 Ks; Rothwell, 3-for-3, RBI; Courtney Elston, 2-for-3.
LHS highlights — Shield, 1-for-3, RBI, 6.2 IP, 9 H, 1 ER, 0 BB, 1 K; Andrea Mills, 2-for-3.
Copyright 2018 The Lawrence Journal-World. All rights reserved. This material may not be published, broadcast, rewritten or redistributed. We strive to uphold our values for every story published.