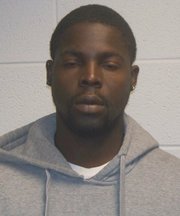 Lawrence police have identified the man who died after a shooting erupted in east Lawrence on Sunday as Charles T. Brockman, a 26-year-old Lawrence man. Police said it is unclear whether an arrest will be made in the incident.
According to a news release from Lawrence Police Sgt. Trent McKinley, authorities arrived at an apartment complex at the intersection of East 13th Street and Maple Lane around 6 p.m. Sunday in response to a shooting. Investigators determined Brockman had arrived at the apartment complex about 5:50 p.m. During this time, many people were outside having a cookout for Mother's Day.
Brockman allegedly exited his vehicle carrying a shotgun, according to Monday's news release. When Brockman arrived, one person socializing at the cookout ran toward the second floor of the apartment building. He attempted to enter one of the apartments but was not allowed inside. According to the release, investigators determined this person had a previous dispute with Brockman.
Several people unsuccessfully tried to convince Brockman to put the shotgun down and leave, the release said.
"There were some people who tried to intervene," McKinley said. "They were Brockman's friends, and they tried to stop him. He kind of paused for a moment, but then he saw the person he was after."
Brockman ran toward the apartment building, and children and adults scattered. A few seconds later, gunfire erupted near the east stairway of the building. It was determined that Brockman was shot by the person he was pursuing, the release said.
"This person who was the intended target was stuck on the second floor as this person approached the building," McKinley said. "The individual being pursued also had a handgun."
Family members transported Brockman to Lawrence Memorial Hospital, according to a Sunday news release. Brockman received treatment but died from a gunshot wound before he could be transferred to another hospital, McKinley said.
When police arrived on the scene on Sunday, they received a description of the shooter and the car he may have been driving. Shortly after, a Douglas County sheriff's deputy observed the vehicle and stopped it in the East Hills Business Park. Police later questioned the shooter at the Judicial and Law Enforcement Center, according to the release.
The release does not name the shooter. He is not in custody and "has been cooperative," according to McKinley, who said a report will be sent to the Douglas County District Attorney's Office for consideration of charges.
"In talking with witnesses as well as the person with the handgun, we've determined this is not something we'll make an arrest on immediately," McKinley said.
On Monday, police went back to the apartment complex to speak with more witnesses.
McKinley said officers interviewed numerous people who were present at the apartment complex on Sunday. However, police are still seeking information. Anyone with knowledge about the incident is asked to call the Lawrence Police Department Investigations Division at (785) 832-7509.
Brockman was one of three men arrested on suspicion of robbing a Lawrence apartment in January 2013. In this incident, three suspects allegedly used a handgun to steal $260 in cash, a television, a Playstation gaming system and six grams of marijuana, according to police reports.
According to reports from the Kansas Department of Corrections, Brockman was convicted of aggravated robbery. He was sentenced in March 2013 and placed under Intensive Supervised Probation by the Douglas County Community Corrections Department.
Copyright 2018 The Lawrence Journal-World. All rights reserved. This material may not be published, broadcast, rewritten or redistributed. We strive to uphold our values for every story published.