A 26-year-old Lawrence man died Sunday after a shooting erupted in east Lawrence, according to Lawrence police.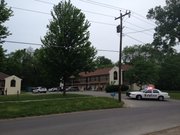 Authorities responded to an apartment complex on the corner of East 13th Street and Maple Lane around 6 p.m. in regard to a shooting. There they determined a victim had been transported by family members to Lawrence Memorial Hospital, where he later died from a gunshot wound, according to a news release by Sgt. Trent McKinley, a Lawrence Police Department spokesman.
Officers then learned the description of another individual involved in the shooting and the vehicle the suspect may have been traveling in, the release said. Shortly after, a Douglas County sheriff's deputy observed the vehicle and stopped it in the East Hills Business Park, where an arrest was made, according to McKinley.
The statement said no identification of the victim or suspect would be made Sunday and that additional information would be released Monday morning.
This is the sixth homicide in Lawrence since July 2013.
A witness, Timothy Brown, who is the maintenance technician at the apartment complex, said two men had exchanged shots at each other after getting into an argument.
Brown said about 35 people were outside for a Mother's Day cookout when a man with a shotgun exited a vehicle from the road. The man with the shotgun approached a man from the cookout and an argument ensued, according to Brown.
The man from the crowd produced a pistol and shot the man holding the shotgun, who returned fire, Brown said. Nobody else was shot, he said.
"It's Mother's Day, man," Brown said. "This is insane. There were children out playing."
Copyright 2018 The Lawrence Journal-World. All rights reserved. This material may not be published, broadcast, rewritten or redistributed. We strive to uphold our values for every story published.