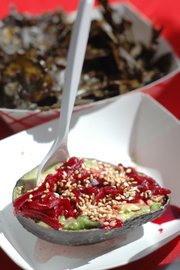 Festival Food Truck Guide
KC Bobs aka American-style Kabobs
Menu items include: Beefy Bob, Chicken Bob, Mama Mia, Maui WOWI, Shrimp Bob, Veggie Bob and Fruity Bob.
Richie Rich's BBQ
Menu items include: Pulled pork, brisket, pork spare ribs, slow-smoked turkey, rib tips
Organized Chaos
Menu items include: Banh mi, Cubano, Thai Chicken flatbread, Tequila Chicken
Indios Carbonsitos aka Gourmet MexiQ aka Mexican BBQ fusion
Menu items include: Tortas ahogadas, tacos, barbecue nachos, barbecue tamales, hot dogs
Wilma's Real Good Food
Menu items include: Barnyard Bliss sandwich, meatloaf slider, KC cheesesteak, fried grits, frog leg tacos, pork belly beignets
Blissful Bite
Menu items include: Gluten-free tacos, avocado smoothies, Hassome Avocado (half an avocado with beet relish, amino acids and toasted sesame seeds)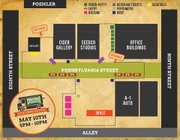 If you've ever been to the Warehouse Arts District, you know it's a hub for some of the most creative visual artists and musicians Lawrence has to offer. And after almost two years in existence, district promoter Tom Larkin was trying to think of new ways to expand awareness of the district beyond Lawrence.
What better way to do that than live music, art for sale and streets lined with trucks serving up some of the area's finest food found on wheels?
And so began the planning of Lawrence's first Kansas Food Truck Festival.
The festival, which will be from 5 p.m. to 10 p.m. Saturday at the Warehouse Arts District, features five trucks parked along Pennsylvania St., from Kansas City, Mo. and Lawrence's only food truck: KC Bobs, Richie Rich's BBQ, Organized Chaos, Indios Carbonsitos, Wilma's Real Good Food, and Blissful Bite.
Along with street food, the festival will feature three bands on an outdoor stage — Truckstop Honeymoon, Wells the Traveler, and Psychic Heat — as well as a jazz trio playing in Cider Gallery, 810 Pennsylvania St., where artwork by local artists Billy Beeson and Zak Barnes will be on display and for sale.
Tickets to the festival are $12; if you bring in a canned food item, tickets are $10. Kids under 12 get in free. Volunteers for two-hour shifts (which are still needed) get free entry.
The festival is also partnering with Just Food to help raise funds for the local food bank.
Elizabeth Keever, director of operations and development at Just Food, says this event couldn't have come at a better time. Families in need suffer the biggest hardship during the summer, relying on school meals during the year as a regular meal provider. Any funds raised at the festival will be an incredible help, Keever says.
Blissful Bite was a last-minute addition to the festivities, not originally contacted, Larkin says, because of the event planners' unfamiliarity with the food truck until after finalizing booking for the festival. As a result of high pre-event ticket sales and a great deal of interest on social media, Blissful Bite has been added to the food truck roster to accommodate for the high demand.
Larkin hopes this event will serve as a catalyst to encourage a food truck scene in Lawrence, where the Warehouse Arts District could foster a regular selling spot for them. This would continue to help with promotion of the district, luring people into the area on a daily basis.
"The [food truck] trend hasn't quite hit Lawrence yet," Larkin says. "We're hoping that this will enable other people to find food trucks as a viable option. And the long-term goal is to provide a space for them to operate down here in the district."
If you go
The Kansas Food Truck Festival will be from 5 p.m. to 10 p.m. Saturday in the Warehouse Arts District near Eighth and Pennsylvania streets. Tickets to the festival are $12; if you bring in a canned food item, tickets are $10. Kids under 12 get in free. Just Food will receive $5 from each ticket sale.
For food truck newbies, here are some tips to guarantee a successful food truck experience:
1) Cherish napkins. Considering most things available are finger food friendly and BBQ-centric, it's going to be worth it to scope out the napkin opportunities at each stop.
2) Pace yourself. Remember when mom used to say "your eyes are bigger than your stomach" and you ignored it every time just to end up with the world's worst stomach ache? Keep her voice in the back of your mind, even if you think you can muster a fourth Kabob.
3) Stake out tables. There's nothing worse than waiting through the long line just to come out on the other side without a spot to sit. Have a friend grab the table while you grab the food.
4) Plan a meal. It's not a bad idea to think about eating in a natural order, i.e., appetizer, entree and then dessert. This will help keep you from consuming the entire festival in one bite. Grab your starter, enjoy some live music, and circle back for the entree and so on.
5) Be adventurous. Frog leg tacos, anyone? Look for Wilma's Real Good Food for this one. Might as well indulge in a couple of dishes that seem out of the ordinary since it's not every day these guys roll into Lawrence.
6) Stay hydrated. With the weather forecast (although we can't always trust this) expected to be 80 degrees and sunny, it's going to be worth it to keep replenishing your body with water (or head over to the beer garden). Think of all the dancing you'll have to do to work off the food.
7) Avoid lobster status. As alluded to earlier, your skin is going to catch a lot of sun. Make sure you apply an ample amount of sunscreen.
Copyright 2018 The Lawrence Journal-World. All rights reserved. This material may not be published, broadcast, rewritten or redistributed. We strive to uphold our values for every story published.