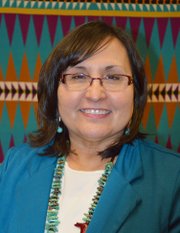 Haskell Indian Nations University's Board of Regents met for the first time in more than a year on Wednesday to discuss the university's finances, admissions standards and the hangover effects of sequestration.
The meeting was also the first time the board met with new Haskell President Venida Chenault. Several regents, who represent native communities from around the country, said they were pleased and relieved at having a Haskell insider heading the university, after a series of outsiders and interim presidents.
Chenault attended Haskell as a student, as did her mother and a total of 38 family members, she said. She began as president this spring after serving as the university's vice president of academic affairs since 2004.
Chenault and the board discussed several challenges facing Haskell, many of which stem from funding issues and the university's relationship with the federal government. Managed by the federal Bureau of Indian Education, Haskell receives all of its educational and facilities funding from the federal government through longstanding treaties.
Currently the university has dozens of instructor and staff positions left vacant because of last year's automatic spending cuts, known as sequestration. The unfilled positions have resulted in reduced classes and services on the Haskell campus.
Funding issues could also affect admissions. In a report to the regents, Haskell's admissions office said the school administration asked it to limit the acceptance of students in need of remedial coursework because of resource constraints.
"We have to be more strategic about what we're doing," Chenault said.
During Wednesday's meeting the regents voted for a one-time increase in student fees, from $265 to $715 for on-campus students, on a request from Haskell's Student Senate. Students saw the increase as a way to boost services and support the university in the face of last year's sequestration cuts.
Several regents opposed the fee increase in principle because they worried it would let the federal government off the hook for its responsibility to fund Haskell.
Regent Lenore Stiffarm called federal budget cuts a modern form of violence and colonization. "We're not going to suffer from this. It will be the children and grandchildren."
But Chenault pointed to pitfalls in the university's dependence on federal funding. "Every time we get a cut, we have to make a difficult decision," she said. "I hate having students coming here and seeing rooms that haven't been painted in five years because we're trying to save money."
The regents ultimately voted to approve the fee increase, but added an amendment stipulating it was a one-time move.
Copyright 2018 The Lawrence Journal-World. All rights reserved. This material may not be published, broadcast, rewritten or redistributed. We strive to uphold our values for every story published.