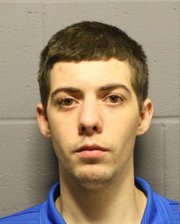 A 23-year-old Lawrence man pleaded guilty Wednesday in federal court to possession with intent to distribute methamphetamine and possession of a firearm in relation to a drug trafficking crime.
Hunter R. Wheeler entered his plea and avoided going to trial. Wheeler faces 10 years to life in federal prison for possession with intent to distribute. If he has a prior felony drug conviction, Wheeler could be sentenced to a mandatory minimum of 20 years. For possessing a firearm, Wheeler faces a possible mandatory minimum sentence of five years in federal prison. Sentencing will be set at a later date.
Lawrence police arrested Wheeler in October 2013 during an undercover investigation. According to the plea agreement filed Wednesday, an undercover officer arranged to buy methamphetamine from Wheeler, who was taken into custody during the transaction. During Wheeler's arrest, officers found 87 grams of methamphetamine and a cellphone used to communicate with the undercover officer. Officers later searched Wheeler's home in the 700 block of Arkansas Street and found another ounce of methamphetamine, paraphernalia, a ledger and a loaded handgun that was near the materials.
Copyright 2018 The Lawrence Journal-World. All rights reserved. This material may not be published, broadcast, rewritten or redistributed. We strive to uphold our values for every story published.