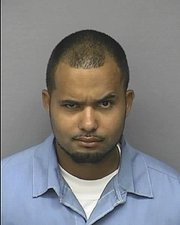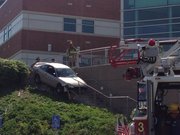 The 33-year-old Lawrence man arrested Monday after impaling a stolen car on a stair railing on the Kansas University campus is also suspected of leading an officer on a separate chase earlier that day.
Lawrence police arrested Donald R. Rayton after 2:15 p.m. Monday after Rayton drove a car he allegedly stole into the railing of stairs behind Joseph R. Pearson Hall.
Sgt. Trent McKinley, a Lawrence Police spokesman, said Rayton was suspected of stealing a woman's 2000 Mitsubishi Mirage earlier on Monday from a home in the 3700 block of Brush Creek. McKinley said police identified Rayton as a suspect based on a previous pursuit in southwest Lawrence. There, McKinley said, an officer investigating a string of auto burglaries noticed suspicious activity involving a vehicle and began a chase after the suspect fled.
McKinley said the chase ended when the vehicle drove off the road and struck a tree. But by that point, the officer was unable to keep up because the suspect was going too fast. On Tuesday, McKinley said police were still not sure who owned the first vehicle and that officers were still investigating whether it was stolen.
Rayton's eventual arrest followed a short pursuit near West Ninth Street and Emery Road after officers investigating the Mitsubishi theft said they spotted Rayton and the car. McKinley said Rayton continued onto the KU campus before hitting the steps, and, from there, he fled on foot before an officer arrested him in the 1000 block of Missouri Street.
Rayton was booked into Douglas County Jail after being taken to Lawrence Memorial Hospital when he complained of a medical condition not related to the pursuits and crashes, McKinley said.
Rayton appeared in Douglas County District Court Tuesday afternoon to be arraigned on charges of fleeing and attempting to elude law enforcement, theft, criminal damage and driving with a suspended license. Assistant District Attorney Amy McGowan told District Judge Kay Huff that Rayton is still on probation in Douglas County for carrying a concealed weapon and that he is also on probation in Shawnee County for possession of narcotics, attempting to possess narcotics and failing to register as an offender. McGowan also said Rayton was charged with felony theft in Douglas County in 2013.
Rayton was convicted of opium or narcotic sales in Douglas County in 2006 and has convictions in Johnson County for forgery and escape from custody, according to the Department of Corrections. Rayton, who is in jail on a $25,000 bond, is scheduled to return to court on May 13.
Copyright 2018 The Lawrence Journal-World. All rights reserved. This material may not be published, broadcast, rewritten or redistributed. We strive to uphold our values for every story published.