The Kauffman Foundation is displaying images by Lawrence artist Tim Forcade as the featured artist through June 30.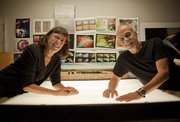 Forcade is a local multimedia artist who employs painting, theatrical lighting, electronic systems, variable speed motors, computers, video and photography to create imagery inspired by light. His more recent works have consisted of large-scale photographs works on paper, vinyl and various fabrics, described as a fusion between painting and photography.
The exhibit at Kauffman Foundation, located at 4801 Rockhill Road in Kansas City, Mo., is free and open to the public 8 a.m. to 5 p.m. Monday through Saturday.
Copyright 2018 The Lawrence Journal-World. All rights reserved. This material may not be published, broadcast, rewritten or redistributed. We strive to uphold our values for every story published.