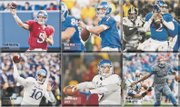 Overmatched in the trenches. High coaching turnover. Inadequate recruiting. Shallow talent at wide receiver.
All those factors have played a part in the Kansas University football program getting trapped in the Big 12 cellar for five seasons running. Worse, KU has lost 40 of its last 42 Big 12 games.
No factor has played a bigger role in the cellar-dwelling than a failure to recruit the right quarterback, develop him the right way and put him in the right offense.
No other Big 12 program has come close to showing as much instability at the quarterback position as Kansas.
Montell Cozart, who beat out Jake Heaps for the starting job during spring football, has a chance to change that. He has three seasons of eligibility remaining. If he produces, he could stop the revolving door from spinning. If he does not, the search continues.
KU coach Charlie Weis announced a few days after the spring football game that Cozart will get the start, a nice confidence jolt for him. Cozart is set to become the sixth Week One starter in six seasons, following Todd Reesing, Kale Pick, Jordan Webb, Dayne Crist and Jake Heaps.
During that stretch, no other school can claim more than four Week One starters, provided nothing changes in terms of the 2014 projected starters.
Cozart is by far the least-experienced passer among the 10 projected Big 12 starters. He attempted 63 passes during his true freshman season.
Trevor Knight, who as a red-shirt freshman threw four touchdown passes to lead Oklahoma to an upset victory against Alabama in the Sugar Bowl in January, is the least experienced outside of Cozart. Knight attempted 134 passes.
Half of the projected starting quarterbacks in the Big 12 also started the season-opener a year ago. Baylor's Bryce Petty, Kansas State's Jake Waters, Oklahoma State's J.W. Walsh and David Ash of Texas join Knight in that regard.
Petty, Waters and Knight shape up as the leading contenders for all-conference honors at quarterback. First-time, Big 12 season-opening starters joining Cozart are Iowa State's Grant Rohach, TCU's experienced Trevone Boykin, Texas Tech's Davis Webb and West Virginia's Clint Trickett.
Cozart's mobility makes a better fit for playing behind an inexperienced offensive line and for running a spread offense that gives a speedy QB like Cozart room to make things happen on scripted runs and scrambles.
Big 12 Starting QBs
Montell Cozart is set to become Kansas University's sixth Week 1 starting quarterback in six seasons. A look at Big 12, season-opening starters the past six seasons, with number of different starters in parentheses:
Baylor (3)
2014: Bryce Petty
2013: Bryce Petty
2012: Nick Florence
2011: Robert Griffin III
2010: Robert Griffin III
2009: Robert Griffin III
Iowa State (4)
2014: Grant Rohach
2013: Sam Richardson
2012: Steele Jantz
2011: Steele Jantz
2010: Austen Arnaud
2009: Austen Arnaud
Kansas (6)
2014: Montell Cozart
2013: Jake Heaps
2012: Dayne Crist
2011: Jordan Webb
2010: Kale Pick
2009: Todd Reesing
Kansas State (3)
2014: Jake Waters
2013: Jake Waters
2012: Collin Klein
2011: Collin Klein
2010: Carson Coffman
2009: Carson Coffman
Oklahoma (3)
2014: Trevor Knight
2013: Trevor Knight
2012: Landry Jones
2011: Landry Jones
2010: Landry Jones
2009: Sam Bradford
Oklahoma State (4)
2014: J.W. Walsh
2013: J.W. Walsh
2012: Wes Lunt
2011: Brandon Weeden
2010: Brandon Weeden
2009: Zac Robinson
Texas (3)
2014: David Ash
2013: David Ash
2012: David Ash
2011: Garrett Gilbert
2010: Garrett Gilbert
2009: Colt McCoy
TCU (3)
2014: Trevone Boykin
2013: Casey Pachall
2012: Casey Pachall
2011: Casey Pachall
2010: Andy Dalton
2009: Andy Dalton
Texas Tech (4)
2014: Davis Webb
2013: Baker Mayfield
2012: Seth Doege
2011: Taylor Potts
2010: Taylor Potts
2009: Taylor Potts
West Virginia (4)
2014: Clint Trickett
2013: Paul Millard
2012: Geno Smith
2011: Geno Smith
2010: Geno Smith
2009: Jarrett Brown
Copyright 2018 The Lawrence Journal-World. All rights reserved. This material may not be published, broadcast, rewritten or redistributed. We strive to uphold our values for every story published.