A little more than 10 years ago, Courtney Shanks convinced her brother, Brad, to move to New York City. The Kansas City natives hadn't played music together as kids or planned to start a band in NYC — but they soon formed Blood on the Wall with drummer Miggy Littleton, leading to three albums and a tour with the Yeah Yeah Yeahs.
Now the Shanks siblings are calling Lawrence home again — and performing as Blood on the Wall for the first time in about five years at Love Garden's 24th anniversary show on Sunday. We caught up with Brad and Courtney after a recent Love Garden shopping trip to talk about what they're up to now.
JS: You haven't played a show in a few years. What convinced you to play this show?
CS: Love of Kelly [Corcoran, owner] and Love Garden. That was really the only reason. Big fans of this guy and this store.
JS: What was the process of you forming as a band? Did you move to New York with the intention of forming Blood on the Wall?
BS: Not at all. [Laughs] We really just started playing together to have fun with each other. Just learning how to play music, really. We didn't play our first show for a couple of years.
CS: We told everyone we were a band, but didn't play for anyone and just played for each other.
BS: We talked about booking a show…
CS: People would come up to me and tell me, 'Hey, I know you're in this band, called Blood on the Wall,' and I'd say 'What?' They named it kind of without me. Told people that was our name. [Laughs] I knew I was in it, but I didn't know what it was going to be called.
JS: Do you still actively make music?
BS: I'm in a band called Mouthbreathers. We don't play much anymore, but our singer moved back recently from Atlanta, so we might play again in a month or two.
JS: Are you looking forward to playing again as Blood on the Wall?
CS: It's fun practicing and playing guitars again for me. I've been playing by myself for a little bit… until now. It's fun playing again. And we're looking forward to seeing Miggy. He's one of our best friends ... So we're really excited to get to hang out with him and play music with him again.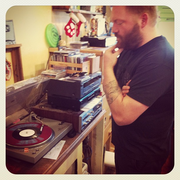 JS: What are some of your memories of Love Garden and Kelly over the years?
CS: I started shopping here... maybe I came in high school... before Kelly owned it. Yeah. Definitely all through college and then maybe even in high school with buddies. Long years of Love Garden shopping. Basically it's my favorite record store in the world. We did a lot of touring all over the country a lot, and even some international touring. I think it was my favorite record store I've ever been to in my life. And it's not just bias because it's a hometown — it really genuinely is the best record store. It's amazing. It's a beautiful gem of a treasure. People don't even realize how good they've got it. Right here.
BS: I used to walk down here from the dorms and eat a burger at the Replay...
CS: I loved those!
BS: ...and go to Love Garden and buy a record. Every weekend basically is how I started going to Love Garden. Then I actually worked here three and a half years — 2008 to 2011. I asked Kelly for a job because I was living at my mom's house... he basically had to do it. I've known him since I was 18. We worked at KJHK together.
CS: I met him at KJHK before, too! I forgot. He was program director.
JS: Brad, you have your hand in a lot of things in Lawrence. Are you still working at the Replay Lounge?
BS: Replay Records I've kind of moved on from... I worked at Replay for a long time and then we basically started a taco place there. We have Taco Zone in the back on the patio. And Courtney's husband is the chef. He prepares the food and I put it together.
CS: And I do a little light bookkeeping. That's my contribution!
BS: Replay Records is something I have a hand in, but not much. It is an awesome label.
CS: And it's an awesome bar. I'm a big fan of the Replay Lounge.
JS: What records did you pick up from Love Garden today?
BS: I picked up Los Saicos — "Demolicion." [Reading from the cover:] 'Whoever thought there could be a combo out there in Peru in 1965 that would make the Sonics sound like Simon and bloody Garfunkel?'
CS: I got a Michael Hurley record: "Hi Fi Snock Uptown." I've always had a MP3, but not vinyl, so I'm excited because I have like 15 Michael Hurley records. Huge Michael Hurley fan. Really psyched. Really like the "Trinidad" song.
Copyright 2018 The Lawrence Journal-World. All rights reserved. This material may not be published, broadcast, rewritten or redistributed. We strive to uphold our values for every story published.