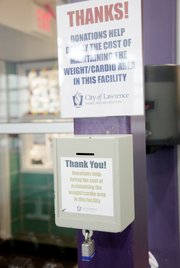 In the northwest corner of Lawrence, city officials are spending more than $22 million for a new recreation center and related infrastructure for the adjacent Rock Chalk Park Sports complex.
But in other pockets of the city — at the recreation centers at Holcom Park, East Lawrence and downtown, for example — city officials have donation boxes up hoping to attract a few dollars to help maintain equipment such as treadmills and weight machines.
"I think in many regards it is kind of a slap in the face to residents who live in other parts of town," said Anne Schulman, a Lawrence resident who uses the Holcom center. "The equipment there is not in a real up-to-date condition. They are pouring all of this money into Rock Chalk Park, and they are asking for donations here."
But a leader with the city's parks and recreation department said the donation boxes aren't a sign that the city is struggling to fund the maintenance of existing facilities and equipment now that money is being devoted to Rock Chalk Park.
Instead, Tim Laurent, recreation operations manager for the city, said the issue was more of a philosophical one. He said residents who take classes through Parks and Recreation pay a fee to reduce the use of general taxpayer funds. But users of the fitness rooms aren't required to pay any fees.
"If the folks actually using the equipment are willing to pay, then we wouldn't have to pass as much of those expenses along to the general taxpayer," Laurent said.
Laurent said the donation boxes came along well before Rock Chalk Park. He estimated the boxes have been in place for about three years, but said they haven't been a point of emphasis for the department. Thus far, they also haven't been much of a revenue generator.
"Between the three of them, I doubt we make more than $250 in a year," Laurent said.
Laurent said the idea of charging entrance fees or membership fees to use the city's recreation centers has been mentioned, but he said the department has no plans to begin charging such fees. Entrance fees are common with parks and recreation facilities in the Kansas City area, he said, but Lawrence leaders are committed to making the centers available to as many people as possible.
The recreation center at Rock Chalk Park is scheduled to open in September, and Laurent said the current plan is to place a donation box at that facility as well.
As for plans to upgrade fitness equipment at existing centers, Laurent said the department doesn't have any specific projects planned. Instead, he said the department responds to equipment that breaks, and then makes decisions at the end of each year on pieces that need to be replaced.
Laurent did acknowledge that last year some replacements were deferred because recreation department revenues were coming in lower than expected. But he said the department has since replaced a treadmill at the Community Building and conducted maintenance work on several other pieces of equipment.
"I have no concern that we're going to let these existing facilities fall through the cracks as this new facility comes on line," Laurent said. "I understand why it may be a concern, but it is something we take very seriously."
Copyright 2018 The Lawrence Journal-World. All rights reserved. This material may not be published, broadcast, rewritten or redistributed. We strive to uphold our values for every story published.