About this story
Micki Chestnut is communications director for the United Way of Douglas County, which provides occasional features spotlighting local volunteers and charities supported by the United Way.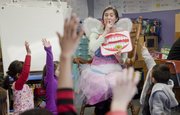 Who knew kids could get this excited about brushing their teeth? But when the actual Tooth Fairy, decked out in wings, sparkling tiara and pink tutu, makes an in-the-flesh visit to your classroom, how can kindergarteners be expected to contain their enthusiasm?
The 16 students in Ms. Baggett's class at Hillcrest Elementary School squirmed with anticipation as they sat in a ring around the Tooth Fairy, who was on assignment from the Douglas County Dental Clinic, eagerly sharing their personal stories about brushing and flossing.
Making dental care more fun and less scary for children is one of the secrets of the Douglas County Dental Clinic's outreach to children, including the Access to Baby and Child Dentistry program. ABCD focuses on preventative and restorative dental care for low-income children, starting with visits to the dental clinic as soon as a child's first tooth pops through until the child is 5 or 6.
The goal of the program, which was piloted across Kansas in 2002, is to get children on a lifelong path toward good oral health by connecting them with a dental provider and teaching them how to prevent tooth decay early to reduce the need for costly restorative work when they get older.
This year, the United Way of Douglas County invested $63,000 in the work of the dental clinic, $13,000 of which is targeted toward the ABCD program to ensure children who don't have dental health insurance have access to dental health care.
After 12 years, the program is going strong in Douglas County and achieving great results, according to Julie Branstrom, executive director of the Douglas County Dental Clinic. In 2013, the dental clinic provided services to 840 children from birth to age 6, for 1,049 dental visits. The littlest patients sit on Mom or Dad's lap in the exam chair while one of the clinic's three dentists takes a peek at their baby teeth. The visit is relaxed, even fun, so children have a chance to experience the sights and smells of the dental clinic so they will be more comfortable when they return for more extensive checkups as they get older.
"Most general dentists don't recommend visits until a child is 4. But we think that is too late," Branstrom said. "We already know this population is at risk for dental decay, and the prevention piece is very important. Without this program, we would be seeing far fewer kids for routine care and we would see more cavities."
Ray Munoz, the ABCD coordinator for the dental clinic, remembers too well how severe the children's dental problems were when he began doing outreach in the community nine years ago, urging low-income parents to participate in ABCD.
"There were rampant problems with decay. I remember kids that had 18 out of their 20 baby teeth that were rotten and had to be extracted, or they had to get root canals and crowns. It used to be bad," recounted Munoz, who works primarily with the clinic's Spanish speaking population, which represents about 12 percent of the patients in the ABCD program, he estimated.
Munoz chalks up nightmare stories like those to some parents' lack of knowledge about the causes of tooth decay, like putting a baby to bed with a bottle, and lack of access to affordable preventive dental care.
In addition to disseminating information on oral health care practices at health fairs, Head Start programs and elementary classrooms, Munoz also helps parents overcome hurdles that keep them from getting their kids to the dentist, like lack of transportation and lack of child care for siblings. He'll do whatever it takes to help parents out, from dealing with paperwork to entertaining siblings while parents sit with a child in a dental exam.
Today, Munoz is amazed at the difference in the oral health of children who have been involved in ABCD for a few years. "We have a significant population that started out in the ABCD program and stayed with us. The parents are thankful they can get preventive care," he said. "And seeing the kids come in, they all have great smiles, and it gives them confidence. They appreciate it."
Copyright 2018 The Lawrence Journal-World. All rights reserved. This material may not be published, broadcast, rewritten or redistributed. We strive to uphold our values for every story published.