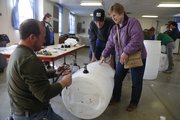 Miles from the downtown bookstore at which she works, Julie Trowbridge-Alford still thought back on Saturday morning to one of the books lining her store's shelves: The Boy Who Harnessed The Wind.
In it, the book's author builds a windmill out of scraps to power appliances in his family's home in Africa. As she spoke of the book Saturday, Trowbridge-Alford dragged what once was a large plastic barrel used by PepsiCo that is now a device she'll use to harness the rain.
Trowbridge-Alford was the first of about two dozen participants to file through an assembly line inside a Douglas County Fairgrounds building during the third annual rain barrel workshop. The Sunflower State Professionals chapter of Engineers Without Borders again collaborated with the Douglas County Kansas State Research and Extension office and Douglas County Master Gardeners to host the workshop.
"This is a way we can get to know some of our community members," said Emily Robbins, a former Kansas University student now with Engineers Without Borders. In opening the workshop, Robbins told those in attendance of her group's work on projects to help harvest clean water for drinking and bathing in a small Guatemalan community.
Meanwhile In communities like those in Douglas County, Robbins said, rain barrels are used to collect rainwater that can water gardens and lawns. Kelly Borgen, a Kansas State alumna and Westar Energy employee, said she grew up in Southwest Kansas, where drought has been a constant drain. She said she loved seeing rain barrels on the sides of homes "instead of driving down streets and watching instant sprinklers running all day" or water trickling down the street "because people forgot to turn them off."
Each barrel took just under 20 minutes to assemble, a contrast from Trowbridge-Alford's first barrel made 10 years ago when she had to put it together herself. On Saturday, volunteers assisted with each step. Two large holes were drilled on the barrel's top with a power drill, followed by an overflow valve on the top side of the barrel and a spigot toward the bottom of the barrel.
A final touch later awaited Trowbridge-Alford's barrel: a mesh covering to keep her cats and other small animals from falling in the barrel while they scamper up her house in flight from coyotes.
Trowbridge-Alford said her new barrel will rest on an opposite side of her home from the original, both collecting water for her butterfly garden and the scores of plants surrounding her house.
"I have the eternal optimism of the gardener who believes that rain will come," Trowbridge-Alford said.
Copyright 2017 The Lawrence Journal-World. All rights reserved. This material may not be published, broadcast, rewritten or redistributed. We strive to uphold our values for every story published.