It is too early to tell whether Marci D. Cully, the Lawrence woman accused of stabbing her boyfriend to death early Christmas morning, will go to trial, her attorney said Friday.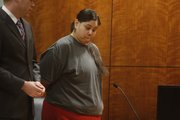 Cully, 27, appeared Friday in Douglas County District Court and entered a plea of not guilty to a charge of second-degree murder. She has been in jail since being arrested following the Dec. 25 death of Wayne Francisco, 33, at his apartment at 4300 West 24th Place.
Rather than setting a trial date, both sides agreed Friday to set the matter for a status conference on May 6. Cully's attorney, Courtney Henderson, said the defense and prosecution were still awaiting the results of a criminal history report and testing of additional evidence.
Henderson said it was too early to tell whether the case would indeed go to trial and that no negotiations had taken place.
He said Cully was doing "as well as can be expected in the situation."
During a preliminary hearing last month, investigators testified that Cully told them she stabbed Francisco twice after he threatened her and threw a chair at her and attempted to swing it again. A cellphone video recorded by Cully of the altercation was also played in court during the Feb. 14 hearing. Cully told investigators Francisco had been drinking all night and a coroner later testified that Francisco had a blood alcohol level of .341 at the time of his death.
Copyright 2018 The Lawrence Journal-World. All rights reserved. This material may not be published, broadcast, rewritten or redistributed. We strive to uphold our values for every story published.