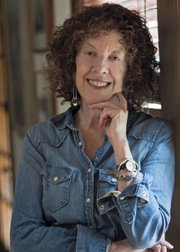 Columnist Leonard Pitts Jr. and clinical psychologist and author Harriet Lerner will give keynote speeches at the Kansas University School of Social Welfare's annual alumni event, Social Work Day.
More than 350 social workers and KU alumni are expected to gather for the event April 11 at the Kansas Union. Lerner will speak at 9 a.m. Pitts will speak at 1 p.m.
The lectures are open only to registered participants of Social Work Day, which also includes a number of workshops and lunch. The fee is $105, and details and registration information are online at socwel.ku.edu/swday. Participants are asked to register by April 4.
Pitts is a Pulitzer Prize-winning national newspaper columnist and author; his latest novel is titled "Freeman." Lerner, a Lawrence resident and best-selling author, is one of the nation's most respected voices on the psychology of women and the process of change in couples and families. Currently in private practice, she previously was a staff psychologist at the Menninger Clinic in Topeka and a faculty member and supervisor in the Karl Menninger School of Psychiatry.
Copyright 2018 The Lawrence Journal-World. All rights reserved. This material may not be published, broadcast, rewritten or redistributed. We strive to uphold our values for every story published.