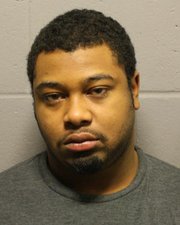 A Lawrence police officer testified Tuesday that while he was off duty early one morning last winter, he saw a Kansas City, Mo., man fire at least two shots at a car downtown and heard him fire another before he eventually followed the person he thought was the shooter from the scene.
Marck E. Fristoe, 21, will stand trial for charges of attempted second-degree murder and aggravated battery in connection with a Dec. 21 downtown dispute that resulted in a bystander being shot in the hip. Fristoe pleaded not guilty to the charges Tuesday after a preliminary hearing at Douglas County District Court. District Judge Kay Huff bound Fristoe, who is in jail on a $150,000 bond, over for a July 16 trial expected to span three days.
Dominique Sloan, the off-duty officer, said he had just left Brothers Bar & Grill, 1105 Massachusetts St., after 1:30 a.m. that morning when he saw an altercation break out near his car. Sloan testified in court Tuesday that he saw Fristoe fire a handgun toward a car carrying a group of people with whom Fristoe had earlier had a dispute.
A bystander, Lawrence resident Paul Kiptoo, also testified Tuesday that he was shot in the hip during the dispute. Sloan, meanwhile, dialed dispatchers and trailed a car with Fristoe in it until patrol officers stopped the car near 11th and Haskell. Another officer testified Tuesday that a handgun was found in the car, and a detective later said shell casings found downtown were sent to the Kansas Bureau of Investigation for possible testing.
Kiptoo said he was also leaving Brothers when he saw a person he could not identify firing a gun. The shooter soon pointed the gun at Kiptoo, he said, and he dove for cover behind a car. Soon, Kiptoo said, he felt a pain and saw blood. The shooting allegedly followed an altercation between Fristoe and a group of friends who had also left Brothers. One man, Tyler Myrick, testified Tuesday that a man he identified in court as Fristoe approached and began asking members of the group "what's your problem?"
As Myrick got into his friend's car, he said Fristoe told him he was "lucky I respect your boy but you're dead to me," referring to an apparent mutual friend in Myrick's group. As they drove away, Myrick said, he heard a pop and saw the car's back window crack.
Copyright 2018 The Lawrence Journal-World. All rights reserved. This material may not be published, broadcast, rewritten or redistributed. We strive to uphold our values for every story published.