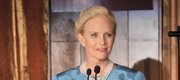 At the Dole Institute of Politics on Tuesday evening, Cindy McCain spoke to an audience of more than 100 on topics ranging from her personal life and humanitarian work to her opinions on contemporary politics and President Obama's handling of the situation between Russian and Ukraine.
McCain, best known as the wife of 2008 presidential candidate Sen. John McCain, R-Ariz., said accompanying her husband on the campaign trail was both "fascinating and grueling."
"It was a lot of fun, an incredible experience, and I would never do it again," McCain said Tuesday. "Nowadays with all the social media, I think it's cruel at times. If somebody came up to me right now and asked, 'Should I run for Congress?' I might tell them no. It is rough go right now. People are not civil to each other, and they are not willing to debate in a fashion that is intelligent and thoughtful."
McCain now acts as chairman of her family's business, Hensley & Company, the largest Anheuser-Busch distributor in the United States. She is also involved with several humanitarian efforts, including the HALO Trust, which removes landmines worldwide, and the Eastern Congo Initiative, which raises awareness for women and children in the Congo.
For the past year, McCain has served as co-chair on Arizona Gov. Jan Brewer's Task Force on Human Trafficking.
In February, McCain testified at a U.S. House of Representatives hearing, where she presented information about sex trafficking surrounding the 2014 Super Bowl. McCain explained Tuesday that she has worked to further a bill in the Arizona Legislature that would create tougher penalties for sex traffickers. She would like to have legislation in place, McCain said, before the 2015 Super Bowl, which will be in Glendale, Ariz.
Later in the program, in response to a question posed by an audience member about the Ukraine crisis and how it would be handled differently if Sen. John McCain were president, Cindy McCain said simply, "There's something to be said for experience."
"I will tell you my husband had more experience and especially on these issues," McCain said. "All these things he said were going to play out are playing out."
Copyright 2018 The Lawrence Journal-World. All rights reserved. This material may not be published, broadcast, rewritten or redistributed. We strive to uphold our values for every story published.