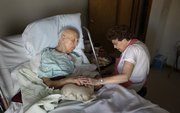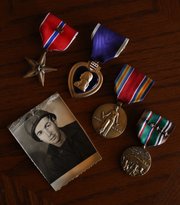 There had been blowing up church steeples.
There had been learning the hard way that a man on a white horse isn't always a good guy. There had been bullets and shrapnel, and . . . well, in short, it had been a long three-and-a-half years.
Eugene Scott had served at D-Day and in Sicily and in the Rhineland and in Tunisia, and lots of hot spots in between. Eugene was due some military ribbons and medals — quite a few of them actually. But he also was due to get on a ship that was heading home.
So, the medals could wait because the ship damn sure wasn't going to.
"He always told me he said 'the hell with it,'" said his son, Ron Scott. "He figured he would get them later."
The medals never did come, though. The nearest that the Scott family ever could figure out was that Eugene's records had been lost in a fire at a St. Louis military facility. Whatever the reason, the medals never came.
"Growing up, Ron would hear his dad talking about how he never did quite get all that was coming to him," said Bonnie Scott, Eugene's wife.
Eugene doesn't talk about it these days. He had a stroke a year ago, and a setback several weeks ago. He's blind, bed-ridden, and largely unresponsive.
But that's the good thing about having family around you: Sometimes they can speak for you.
Several months ago, someone mentioned to Ron that maybe the medals could still be had. The suggestion was made to contact Sen. Pat Roberts' office, and Ron made a call.
"Somebody over there did a lot of digging for us," Ron said of the work done by Roberts' staff.
They had pieced together Eugene's military file, and processed the proper paperwork to have all of his medals issued. He even received a shiny new Purple Heart and Bronze Star, which were among the few medals that he had been issued before leaving the service.
Seven medals in all arrived at Bonnie and Eugene's North Lawrence home. Bonnie decided she would wait for the right time to take them to the bedside that now serves as the ultimate boundary for the man who had fought the world over for freedom.
When a day came that Eugene was more alert — a "good day" in Bonnie's parlance — she took the medals in, and tried to explain.
"He felt the box and he felt the medals," Bonnie said. "He took one of those medals and put it into his mouth. I don't know if he was trying to kiss it or what he was trying to do."
He would have been within his rights.
Eugene was in the 62nd Armored Infantry Battalion in World War II. He drove a half-track, mainly in places where there was a lot of shooting.
It produced a photo album full of pictures from Europe, the Middle East and Africa. And it produced a memory full of stories. Ron remembers his dad talking about blowing up church steeples. It was the first thing the soldiers would do when entering a town. The steeple was the highest point in any town, and thus the best spot for snipers.
And there was the one about the man on the white horse. Eugene's company had noticed a man on a white horse in the distance, and then about 20 minutes later, the bombs began to fall on them. A few days later, it happened again, and any sayings about heroes on white horses were discarded.
"They said if they see him again, they were going to shoot him off that horse, and they did," Ron said. "And they didn't get bombed again."
And, of course, there was D-Day. My heavens, it will be 70 years this summer. Eugene would entertain neighborhood kids with stories of the war, and even with some German souvenirs that he had inherited from a platoon buddy who didn't come back one day. But the days of D-Day weren't often part of the stories.
"He would just mention that every once in awhile," Bonnie said. "He told me once that he was going down that rope ladder on the ship, and he thought, 'I will never get back home.'"
But he did. Came back to the tiny town of McLouth in Jefferson County. In three months, he met and married Bonnie. They lived there 49 years. He worked for the local electric cooperative. He and Bonnie raised their only child. Watched him succeed and become an executive at the local bank. Spoiled some grandchildren. Then some great-grandchildren. Retired in Arkansas before coming back to Kansas to be close to family.
All that time Eugene never had gotten all that was quite due to him. But make no mistake, Eugene Scott has led a decorated life.
But still, a man deserves to take his medals home with him. At 93, Eugene Scott is heading home again — with medals and the love that it finally took to get them.
Copyright 2018 The Lawrence Journal-World. All rights reserved. This material may not be published, broadcast, rewritten or redistributed. We strive to uphold our values for every story published.