Contact KU and higher ed reporter Sara Shepherd
Have a tip or story idea?
---
More stories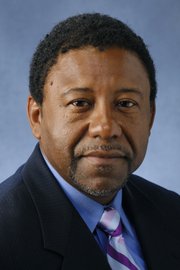 Earlier this month Kansas University administrators laid out an ambitious development strategy in a new 10-year master plan. Among other projects, the plan posits an $800 million science and technology extension winding through the western half of campus that administrators hope will generate patents and corporate partnerships and train students for jobs in scientific and technical fields.
What the plan didn't include, at least in its initial release, was new or modernized space for KU's humanities and liberal arts programs. That has some faculty members feeling left out of the university's vision for the future.
Randal Jelks, a KU associate professor of American studies, points out that his building, Bailey Hall, could benefit from the same administrative dreaming that hatched "Innovation Way," the science and technology project in the master plan.
"Our building is as important on the global map as any building on campus," Jelks said. The various programs devoted to regional and language studies housed in Bailey are of great social value, he said.
Jelks imagines a Bailey with more collaborative space, an extension stretching back into what is now a parking lot, and other features to update it for modern research and teaching. It's a hypothetical, but so are many of the proposed science buildings. And Jelks' dream could be built for far less — on the order of $10 million, he said.
Faculty from other arts and humanities buildings say their buildings could use freshening or replacing, too.
"There's some places that are really in crisis," said Jill Kuhnheim, a professor of Spanish and Portuguese and director of the Center for Latin American and Caribbean Studies.
Kuhnheim points to a need for renovations at Wescoe Hall and a new building for the film studies program. "You would think they would want to renovate some of those things before they build the (science and technology) campus," she said.
Barry Swanson, associate vice provost of campus operations and chairman of the master plan steering committee, said many of the facilities housing the humanities and liberal arts will get maintenance updates or other upgrades under the master plan, all of which will be more apparent to the public once the full master plan analysis is released to the public. He also notes that the plan is not final, but a document that can be revised.
"The beauty of this is it's a never-ending process," he said.
The conversation around the master plan puts into construction terms something irking many humanities and liberal arts scholars at KU and universities around the country. Even though those fields are cheap to fund relative to science and engineering, which need labs and high tech equipment, many in the humanities believe they are undervalued by college administrators and state legislatures.
"Humanities increasingly are looking like they're going to become the province of liberal arts schools, not public universities," said Kuhnheim. That could create class divisions within higher education, if only students who can afford the tuition at liberal arts schools are given access to those fields. "I think that's a social injustice," Kuhnheim said.
It could also be based on misguided logic, Kuhnheim said. "I think that people are mistakenly seeing these (science and engineering) as the money-making parts of the university," she said. "We're the ones who bring in the student dollars."
Those teaching and researching the humanities say they have fundamental contributions that complement science, such as research into communication, ethics and cultural understanding. "You can't just reduce society to technological and instrumental uses," Jelks said.
Copyright 2018 The Lawrence Journal-World. All rights reserved. This material may not be published, broadcast, rewritten or redistributed. We strive to uphold our values for every story published.