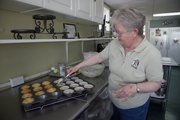 Sometimes late-in-life career changes work. Just ask Dianna Keller.
The Lawrence woman didn't know what to expect a few years back, when she transformed her garage into a kitchen and started her own catering company.
"I feel like I'm getting into my comfort zone," said Keller, baking blueberry muffins for her grandkids on a recent day (it's not all business at Dianna's Kitchen). Her "garage" looks more like a sunroom at this point: a naturally lit, mossy-green-colored kitchen attached to the side of the house, a pair of picture windows where the garage door used to be.
While Keller, 65, isn't the only at-home caterer in Lawrence, she is one of the more original: a self-taught grandmother who cooks no-frills comfort food, all by herself.
Keller was operating a day care in 2007 when her daughter, who worked at a local doctor's office, told her how caterers brought her and her co-workers lunch every day. "You ought to do that," her daughter told her. So Keller did, snapping up all the used catering and kitchen equipment she could find and getting her garage up to code.
The jobs came in quickly and consistently. Pharmaceutical reps would place an order and Keller would deliver it — in and out, just like that. But then the recession hit and health care reform passed, limiting the lavish, pharmaceutically funded lunches doctor's offices had grown accustomed to. So Keller shifted her focus to weddings.
Keller is completely self-taught, a creature of the Information Age, where the Food Network makes everyone feel like they can become a master chef.
"When my husband and I got married, I didn't even know how to make coffee," she said. She did make tuna casserole a few times, until her husband asked her to swear to never do it again. She kept that promise but, in the meantime, learned how to prepare even better dishes, by studying cook books and by "trial and error."
"I love to feed people, I guess," she said. "And people seem to like comfort food the most — the fussy food is not comforting. I actually call it beautiful, simple food. I don't think you need to take blueberry muffins any further than what they are." Her "fanciest" dish, she says, is spinach torta (which she admits is easy to prepare; it just looks complicated).
But don't let her simplicity fool you. She caters for entire weddings, including one that was strictly vegan ("I've never peeled that many vegetables").
Her most memorable event: when, on leap day, two local college students in full wedding attire got married at the courthouse, before heading to the Castle Tea Room, 1307 Massachusetts St., where Keller served just the two of them a five-course meal.
Another memorable catering job: when a local kid bought his grandparents, for Christmas, five home-cooked dinners delivered to their door, by Keller, on the nights of their choosing.
The business's logo also has special significance to Keller: three pea pods, representing her three children, with the middle one opened up, symbolizing her son, Chad, who died in 2005 at the age of 33.
Over the years, she has tried hiring helpers but, alas, always ends up back on her own. "Young people want a job, but they don't want to work," she said.
While business may not always be consistent, when the orders come in Keller intends to be ready.
"You don't need me very often," she said, "but when you need me you expect me to do a good job."
Copyright 2018 The Lawrence Journal-World. All rights reserved. This material may not be published, broadcast, rewritten or redistributed. We strive to uphold our values for every story published.