A friend of mine once likened being a Jayhawk fan in March to "rolling around in a vat of gold while being told how beautiful and smart you are." I think she meant it to be hyperbole, but it's not far off.
Outside of Lawrence, only the residents of a select few other college towns get it. Inside Lawrence, it's like a second Christmas without the downsides of family drama and air travel.
There are treats and parties and decorations. Peace and goodwill are extended... well, if not to all, at least toward everyone wearing crimson and blue. Even the weird stranger who sits down at your table without asking becomes a friend when it's time to sing the "rock chalk" chant.
But the littlest Jayhawks are perhaps the cutest of all.
I still remember the Kid, barely a year old, marching proudly through South Park when the Jayhawks made it to the Final Four in 2012. I'd sewn a big KU flag and hastily attached it to a yard stick, and he waved that flag with a vigor that would compete with the most colorful drum major of any college band.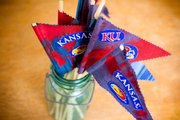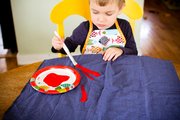 Nostalgic for that memory, this year I decided to make some smaller KU pennants to hand out to the Kid's little friends.
Mining Sarah's Fabrics, 925 Massachusetts St., for the backing fabric, and Stitch-On-Needlework, 926 Massachusetts St., for Jayhawk print fabric, I purposefully made our flags no-sew by using iron-on hem tape. I also wanted to include the Kid in the fun, so I let him splatter paint the fabric before I cut it into pennant shapes.
If your baby Jays would enjoy some flags to wave also, here's the how-to.
Jayhawk Pennant Flags
Makes 8 flags easily, but probably more if you cut carefully
Materials
2 blue "fat quarters" of fabric
1/4 yard of Jayhawk print fabric
Red fabric paint
Iron-on hem tape
8 dowel rods cut to about 12 inches each, or some other type of handle (leftover wooden chopsticks would work beautifully, too)
Directions
Working over newspaper or an old tablecloth, spread out the fat quarters and let your child go to town with the red paint. Meanwhile, carefully cut out several Jayhawk shapes from the Jayhawk print fabric.
When the fat quarters are dry, fold them in half lengthwise with the painted side facing out. With the fold as the short side of the triangle, cut through both layers of fabric to make a pennant shape. When you unfold it, it should look sort of look like a flying bat.
You should be able to easily get 4 flags out of each fat quarter, and you can probably get more if you cut carefully or make your flags a little smaller.
Once your pennants are cut out, it's time to attach them to the dowel rods.
With the painted side of the fabric facing down this time, place the dowel rod in the center of the flag, and cut two pieces of hem tape to stretch diagonally down the sides of the triangle to the right of the dowel rod.
Then, following the instructions on the hem tape, use your iron to fuse the left side on top of the right side, sandwiching the dowel rod in the middle. If your flag is slipping up and down on the dowel rod, a dab of glue or a little more hem tape will help keep it from coming off the end.
To finish the pennants, use small pieces of hem tape to attach the Jayhawk shapes to the front of the flag and prepare to wave the Jayhawks to victory.
Rock chalk, friends!
— Meryl Carver-Allmond lives in Lawrence and writes about chickens, babies, knitting, gardening, food, photography, and whatever else tickles her fancy on any given day at mybitofearth.net.
Copyright 2018 The Lawrence Journal-World. All rights reserved. This material may not be published, broadcast, rewritten or redistributed. We strive to uphold our values for every story published.