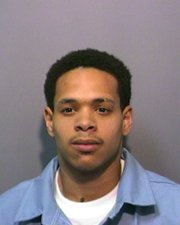 A 31-year-old Lawrence man suspected of violating a Douglas County Sheriff's Office work-release program agreement was arrested Friday after attempting to flee an officer.
Rashaad Williams Sullivan was arrested in the 2100 block of Silicon Avenue when the Douglas County Sheriff's Office received a tip that Sullivan was not showing up for work, Capt. Doug Woods said.
Woods said Sullivan pushed an investigating officer and ran before his arrest. Sullivan was booked into Douglas County Jail after 4 p.m. Friday on suspicion of drug paraphernalia possession, battery of a law enforcement officer and obstruction, each felony offenses. He was also booked on suspicion of escaping from custody, a misdemeanor. A bond had not been set as of Saturday.
Sullivan has been charged in Douglas County District Court several times for offenses related to domestic battery, battery, criminal damage and intimidation of a witness. He also has a 2005 conviction in Sedgwick County for aggravated battery.
Copyright 2018 The Lawrence Journal-World. All rights reserved. This material may not be published, broadcast, rewritten or redistributed. We strive to uphold our values for every story published.