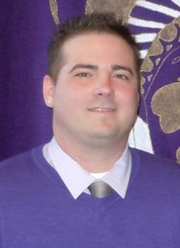 On other campuses, Bobby Crow Feather always felt like he "stuck out."
The Standing Rock Sioux Tribe member is 30, gay, spent much of his youth in a small village in northern Saskatchewan and served in the Canadian army. When he arrived at Haskell Indian Nations University two years ago he'd just had a hip replacement.
"Nobody looked at me like that guy on the cane or that older student," Crow Feather said. "I really felt like I was just another part of the community here. I never felt left out."
Crow Feather is the American Indian College Fund Haskell Student of the Year, and was expected to be recognized Sunday at the organization's annual banquet in Billings, Mont. In an announcement about the honor, Haskell commended Crow Feather for representing the school and its student body in academic achievement as well as social awareness and leadership.
Crow Feather received an associate's degree from United Tribes Technical College in Bismarck, N.D., and attended another college before trying Haskell, which has students from tribes coast to coast.
"I've never found a place that's this diverse," he said. "I really feel like everyone here belongs."
When he did find an area lacking, Crow Feather rallied fellow students and staff and started something to bridge the gap.
One such effort is Haskell's LINK, or Leaders Instilling Native Knowledge, program, which links upperclassmen with younger or transfer students. Crow Feather said while staff was great about helping students who, for example, came from poor high schools and required remedial classes, he noticed there weren't a lot of their own peers reaching out to them.
And while Haskell had an LGBT club in the past, it wasn't active when Crow Feather arrived on campus. He, along with a couple other gay students and allies, started Shout-OUT, which advocates for openness and tolerance.
Crow Feather's resume also includes launching Haskell's Social Work Club and its HIV/AIDS awareness week, which has become an annual campus event, he said.
Crow Feather said Haskell has been a place of healing for him.
He's on track to finish his bachelor's degree in indigenous and American Indian studies with an emphasis on social welfare in May and has made the honor roll every semester. Next, he hopes to pursue master's degrees in indigenous governance and counseling psychology at the University of British Columbia in Vancouver. He wants a career that will allow him to interact with indigenous people, possibly even returning to Haskell in the future.
"I've gotten a lot more here than just an education," Crow Feather said. "I feel like I really have a solid foundation going forward."
Copyright 2018 The Lawrence Journal-World. All rights reserved. This material may not be published, broadcast, rewritten or redistributed. We strive to uphold our values for every story published.