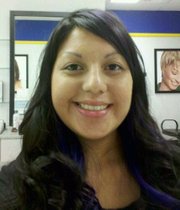 Growing up in an unstable home on her Indian reservation, Kassie James didn't have much direction and didn't feel like she had anyone she could relate to, she said.
Now James is close to graduating from Haskell Indian Nations University. Her next stop is Washburn University, where she plans to pursue a master's degree in social work with hopes of helping others in the shoes she once wore.
"I just want to obtain my education and make a positive impact for Indian Country," she said.
James, the recipient of a Coca-Cola First Generation Scholarship, was scheduled to be recognized Sunday at the American Indian Higher Education Consortium Conference in Billings, Mont.
"Ms. James is an excellent example of the perseverance of Native women in tribal communities, and Haskell is proud of her," the university said in a news release announcing the honor.
A member of the Prairie Band Potawatomi Nation, James grew up in Mayetta.
Her parents were both alcoholics, she said. Her mother is recovering. Her father, who lived much of his life as a homeless veteran, died of cirrhosis of the liver when James was 16.
"That was hard to watch him," she said.
James didn't have a goal of going to college until she attended an Upward Bound summer academy at Haskell. The program invited youth to campus, where they lived in the dorms, ate in the cafeteria and took classes — some with teachers who are still at the university.
After that James knew she'd go to Haskell someday, though her path wasn't direct.
First, she dropped out of high school after her freshman year, got her GED and went to cosmetology school. She needed to work, she said, and chose a trade she could fall back on throughout life if she needed to.
James started classes at Haskell when her first child was just six weeks old. He's now 4, and James also has a 2-year-old daughter and another baby on the way. In addition to being a mom, James worked in the hair industry throughout most of her undergraduate years.
She decided on social work after a class she took her freshman year.
"I learned all the awesome things that the helping profession offered for a career," she said. "And I just stuck with it."
Now, James said, there are more opportunities for everyone than there once were on her reservation. That includes jobs for people who don't want to continue their education and opportunities for people who do — a message she hopes to help spread through a career in social work.
"You can come out of it and you can do things with your life," James said. "You can still have a goal and dream. You're not going to be stuck there forever."
Copyright 2018 The Lawrence Journal-World. All rights reserved. This material may not be published, broadcast, rewritten or redistributed. We strive to uphold our values for every story published.