Photo Gallery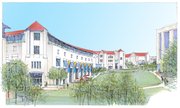 KU Master Plan: Renderings
Topeka — Kansas University officials on Wednesday provided a sneak peek of their 10-year plan that would expand academic and research programs and cost hundreds of millions of dollars.
"This is our vision of a modern, sustainable campus environment," KU Provost Jeffrey Vitter told the Kansas Board of Regents.
He said the proposal would "knit the Lawrence campus into one" by tying the north, central and west campus areas together.
KU Chancellor Bernadette Gray-Little said, "As you can imagine, the challenge, now that we have this beautiful plan, is how to get the resources to do that. We are working on all aspects of that."
Regents members called the plan outstanding and unanimously approved the summary document.
The final, detailed master plan, which will include proposals and analysis on space, classroom use, land use and coordination with the local community, will be released later in the spring.
An open forum on the summary will take place from 8 a.m. to 10 a.m. Friday at The Commons in Spooner Hall on the KU campus.
One major proposal would be the construction of a "Gateway" complex at 19th and Iowa that would include housing for upper-level and graduate students and retail space. It would be a main draw for international students with the goal of doubling the international student population at KU, Vitter said.
Another major aspect of the plan is development of an "Innovation Way" that would go from Haworth Hall to a new "Research Partnership Zone" on West Campus.
The corridor would connect natural, physical and life sciences with engineering and pharmacy.
Vitter said building out "Innovation Way" would cost approximately $800 million.
Construction of a major component of that corridor — the proposed Earth, Energy and Environment Center — will hopefully get underway this year or next, Vitter said.
KU officials said they are seeking public-private partnerships to leverage funds for "Innovation Way."
The plan envisions a 12 percent increase in undergraduate enrollment and 22 percent increase in graduate students over the next 10 years, bringing the campus to 26,000 students. Planners also said the university needed to increase its research space by 40 percent.
It was put together after 13 months of meetings. KU contracted with the Norfolk, Va.-based planning firm Hanbury Evans Wright Vlattas and Co., which specializes in higher education planning, for $1.17 million for consulting work on the plan.
The plan also calls for improvements along Jayhawk Boulevard, preservation of key cultural and historic resources, new stormwater runoff systems, a new Jayhawk Trail that will span most of the campus, and expansion of Anschutz Library with a learning commons and technology convergence center.
Copyright 2018 The Lawrence Journal-World. All rights reserved. This material may not be published, broadcast, rewritten or redistributed. We strive to uphold our values for every story published.