During Wichita State's improbable run to the NCAA Final Four last year, Lisa McLendon, coordinator of the Bremner Editing Center at Kansas University, wore Shocker black and yellow to work.
"Why are you wearing Mizzou colors?" a couple of colleagues asked.
Such is the plight of the Wichita State fan in Lawrence: marginalized, ignored and — even though their team just followed up an undefeated regular season with a Missouri Valley Conference tournament win Sunday, a year after coming a victory short of playing for the national title — not taken seriously.
While Shockers fans say they get pretty good treatment in Lawrence overall, that may be, in part, because Jayhawk Nation isn't ready to give them their due. So they have chips on their shoulders, ready with a response for anyone who brings up Wichita State's mid-major status or lesser Ratings Percentage Index, or RPI.
"The strength-of-schedule argument is always there. But I think the Shockers sort of say it best: 'Play angry.' That's about as good an attitude about the haters as you can have," said Emily Smith, a third-year KU law student who got her undergraduate degree at WSU. "It's not their fault their conference isn't as strong as the Big 12. They're still building and developing their program."
Wichita State fans readily acknowledge that their team doesn't have the winning history of KU and that Charles Koch Arena isn't quite Allen Fieldhouse, but they say the assumption that WSU is the lesser squad does tend to get old.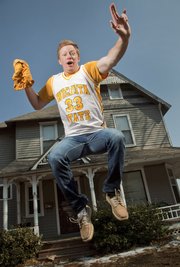 "I think Wichita State's treated like the kid brother: 'Look at you, awww, you're adorable,'" said Lawrence accountant Linda Jalenak, who, like her husband, Jerry, is originally from Wichita and attended WSU, back when the school was known more for its baseball and bowling prowess. "I don't think KU fans see us as a threat to their No. 1 standing in the state."
When the Jalenaks are out in public wearing Wichita State gear (not an easy thing to find in Lawrence, they say), they do get accosted by their fellow Lawrencians — but in a good way. Jayhawk loyalists congratulate them on their team's success; Shockers fans give them high fives or chant "WuShock!" Of course, not everyone in Lawrence is so genial.
"I take so much flack from my friends, especially the ones who aren't from Wichita," said Corbin Mihelic, a junior at KU and Wichita native whose family holds Shockers' season tickets. "They just don't take Wichita State seriously, no matter how undefeated they get."
Growing up north of Wichita, Austin Hershberger's dad would always tell him about the Shockers' glory days: their 1965 Final Four appearance; the 1980s, when they were led by future NBA stars such as Xavier McDaniel and Antoine Carr. But having experienced only mediocre WSU basketball during the course of his life, that success was hard for Hershberger to envision. Until 2013.
"Last year's Final Four was magical," said Hershberger, now a senior at KU. "It's still hard for me to wrap my mind around the fact that the Shockers were actually in the Final Four!"
Like Hershberger, many Lawrence-based Shockers supporters are actually Jayhawks fans, too. And while many Kansans are crossing their fingers that WSU and KU will meet in the tournament, some Lawrence residents say that would be just too difficult.
"I really do support both teams — I hope I don't have to pick," said Linda Jalenak. Ryan Camenzind, a Shockers enthusiast and freshman at KU, said he wouldn't know which squad to cheer for "until the ball was tipped." (Camenzind, like everyone else interviewed for this article, doesn't actually think Wichita State would beat the Jayhawks in that hypothetical matchup.)
So allegiances can often get fuzzy for the Shockers fan living in Lawrence — but not always.
"I'm going to root for both KU and WSU in the tournament," said McLendon, who used to reside in Wichita and teach at WSU. "But in my heart I really want Wichita State to win it all!"
Copyright 2018 The Lawrence Journal-World. All rights reserved. This material may not be published, broadcast, rewritten or redistributed. We strive to uphold our values for every story published.