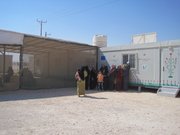 Outside a trio of portable metal buildings just off the crowded main street of Zaatari, Jordan, dozens of women lined up each day to receive contraceptives, breastfeeding consultations and, often, to give birth.
Kansas University medical student Hannah Myrick Anderson was there for it all, assisting Jordanian aid workers at a reproductive health clinic in Jordan's largest Syrian refugee camp. Last summer, Anderson traveled to Jordan through a $2,500 fellowship from the KU Medical Center. She recently published an account of her experience in The Atlantic.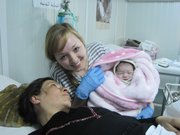 Situated along the Syria-Jordan border, Zaatari currently houses more than 100,000 people, just a fraction of the more than 2.5 million who have fled the country since the outbreak of civil war in 2011. In camps like Zaatari, refugees struggle to live without the most basic of resources. But life is even harder for the settlement's female refugees, Anderson said.
"That was a big reason I wanted to go to this camp," she said. "I wanted to learn what medicine looks like in a crisis situation like this."
Zaatari wasn't Anderson's first exposure to the Middle East. Her father's career as a family physician caused the family to relocate several times during Anderson's childhood. She lived in England, France, the Comoros Islands and Tunisia before settling in Jordan for seven years. The second-year medical student attended middle school and high school in Mafraq, a small city just 10 kilometers from Zaatari.
During her six-week stint at the camp, Anderson spent most of her time working alongside a midwife in one of the clinic's three units. The building, called a "caravan" by refugees, contained a reception desk, a wardrobe in which medications were kept, an exam bed and a non-functioning bathroom. One caravan housed a makeshift waiting area for patients, while the other unit, run by a staff of two doctors and one doctor-in-training, served the camp's pregnant patients with an "ancient" ultrasound machine that ran on a generator.
On any given day, 60 to 70 women would visit the midwife's caravan, a tiny space measuring just 15 feet long and 8 feet wide, Anderson said. Many of her patients were teenage wives and mothers. It was not uncommon, she recalled, to see a 16-year-old stop by the clinic for birth control or a pregnancy test.
"It was really interesting to see the way the whole camp was structured and how the way society was structured within the camp really touched so many aspects of women's lives," Anderson said. "There were so many things that were unique to the experience of women. For instance, the feeling that they weren't safe."
In Zaatari, the social structure refugees once knew in Syria is almost completely upended. Women, forced to live in close proximity to men who are not relatives, no longer feel protected by their large families as they did back home. Rape is a constant fear, Anderson said. While it's common in Syria for girls to wed between 15 and 18, she explained, many of Zaatari's families married off their daughters "on the younger age of the spectrum" in the hopes that a husband might offer some security against attackers.
The fear of assault manifested itself in less obvious ways, too, Anderson said. Many women were afraid to use the camp's bathrooms and developed urinary tract infections as a result.
Still, Anderson said she was amazed to see how Zaatari's refugees worked to maintain a sense of normalcy in the camp.
"I would imagine that if I was in a refugee camp, I think it would be hard to go on with some of these normal milestones of life, but it was interesting to me that that didn't seem to be the case," she said. "People were still getting married and having a lot of babies. People didn't stop making those big changes in their lives even though they were in this really strange place and cut off from everything they were familiar with before."
Anderson, now in her second year at KU Med, plans to continue working with women in obstetrics and gynecology. She also said she could see herself living in the Middle East again someday.
Copyright 2018 The Lawrence Journal-World. All rights reserved. This material may not be published, broadcast, rewritten or redistributed. We strive to uphold our values for every story published.