Notre Dame provost Thomas Burish received the 1949 Award from Kansas University's clinical psychology program Thursday, which recognizes distinguished alumni.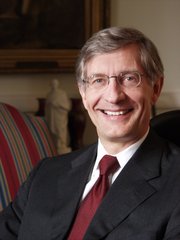 For his acceptance of the award, Burish delivered a 40-minute speech on the important role of flagship universities in front of an audience of 50 people in the Kansas Union ballroom.
Burish is the inaugural winner of the 1949 Award, which also honors the year the clinical psychology program in the Department of Psychology received accreditation.
In his speech, Burish quoted historical figures such as George Washington, Thomas Jefferson and Vannevar Bush to describe flagship universities as being "disproportionately responsible for educating the people of this country," especially in the 19th century as higher education accessibility increased.
Burish described KU as an institution that has carried that responsibility from its beginnings. To back the claim, he pointed to KU's membership with the prestigious Association of American Universities and its tally of Rhodes Scholars — more than "all the other colleges and universities in the state combined" — among other examples.
"In a demonstrative way, KU represents the best of Kansas and its citizens and enables them to achieve their dreams," Burish said.
For KU to remain an important institution, Burish said, it needs to focus change on two areas: digital education and globalization.
KU will have to find a better balance of offering digital courses and must also persuade prospective students to attend school in person, Burish said. In addition, the university will have to promote a global education through study abroad opportunities, recruiting international students and faculty and internationalizing curriculums.
But in general, Burish said the flagships that will continue to succeed in the 21st century will be those with "institutional grit," something he said KU has proven to own "over and over."
"When KU was created by 19th century abolitionists to be an open university, it was not a populous state, it was not a wealthy state, and in higher education it was not a leading state.
"From its humble beginnings, to where it is today — a major flagship institution respected throughout this country — grit has defined this place."
Copyright 2018 The Lawrence Journal-World. All rights reserved. This material may not be published, broadcast, rewritten or redistributed. We strive to uphold our values for every story published.