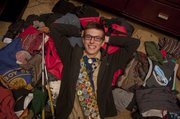 While many of his classmates are planning spring break vacations to Florida or other warmer climes, Free State High School senior Alex Houston is about to embark on a much different trip.
Starting Friday, Houston will fly to Ushuaia, Argentina, and then travel by icebreaker to Antarctica for a two-week international expedition.
"Yeah, this is a little bit different than what most seniors generally go for on a spring break trip," Houston said.
Houston, the son of Peter Houston and Mary Morningstar, was selected for the trip by the Boy Scouts of America and will be the only Scout from the United States to take part in the expedition.
The project is being led by Sir Robert Swan, a polar explorer and founder of the group 2041, which is dedicated to environmental education and preservation of the Antarctic wilderness.
"It's a really big conservation group that works specifically in Antarctica, trying to get the moratorium on drilling renewed," Houston said. "The Boy Scouts wanted to send a representative from the BSA, an Eagle scout, on this trip. So I applied and got accepted. It's pretty cool."
"Currently there's a global agreement, nobody has any claims on Antarctica, they're not doing any resource exploitation there," Houston said. "They (2041) are trying to make sure that gets renewed."
According to BSA, applicants for the trip submitted video essays in which applicants described their understanding of the importance of sustainability, how they would be a positive addition to an international team of environmental experts, and how they would use the experience to benefit their local community.
Then they had to be vetted by the Boy Scouts, and by Swan personally.
Houston said he has long been interested in conservation and sustainability, but he hadn't really though about applying those interests to the study of Antarctica, until the opportunity arose.
"I've read stuff and watched a lot of stuff about it, but I never really expected that it was somewhere I was actually going to get to go to, especially so soon," he said.
The main purpose of the expedition, he said, is to raise awareness about Antarctica and the need for continued environmental protection.
"So we're doing a lot of projects working on preserving species there, or working on scientific explorations, but a lot of it is just getting to travel around the area and getting to experience what it has to offer," he said.
While there, he said, he'll keep a daily journal, shoot lots of photographs and, he hopes, post to a blog about the expedition.
Most of the time will be spent near the coast, along the Antarctic Peninsula, which juts out toward the tip of South America.
"Since it's the end of summer there right now, the weather isn't too bad right now, hopefully," he said. "We're kind of based off the boats, so we're mainly sticking to the coast. I think there's a couple days where we have the opportunity to camp or spend the night on the continent, but we're mainly sticking around the peninsula."
Houston said he's been active in scouting since first grade, when he joined the Cub Scouts. He graduated into Boy Scouts in fifth grade, eventually rising to the level of Eagle Scout, and remains active in the organization today.
This summer, after high school graduation, Houston will get the chance to spend time in a more balmy climate.
He said he was recently notified that he's been accepted to work this summer at the Boy Scouts' Sea Base in the Florida Keys, one of BSA's "high adventure" programs that includes scuba diving and other aquatic programs.
Copyright 2017 The Lawrence Journal-World. All rights reserved. This material may not be published, broadcast, rewritten or redistributed. We strive to uphold our values for every story published.