Photo Gallery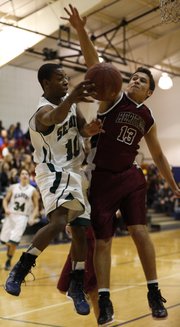 Seabury boys basketball v. Heritage Christian
Images from Tuesday night's game between Bishop Seabury Academy and Heritage Christian.
Box score
HERITAGE CHRISTIAN (41)
Jeremy Schutte 4-10 2-2 11, Stephen Tassy 4-15 0-0 12, Blake LaGue 1-5 0-0 2, Jonathan Baxter 0-2 0-0 0, Jack Feighner 4-17 2-2 14, Seth Jarvis 0-2 0-0 0, Alex Wendte 0-0 0-2 0, Jonathan Edmondson 1-1 0-0 2. Totals 14-52 4-6 41.
BISHOP SEABURY ACADEMY (52)
Avery Rouser 6-7 4-6 16, Marcus Allen 2-11 7-11 11, Bryce Copeland 0-8 6-8 6, Jomain Rouser 2-7 2-3 6, Thomas Uhler 3-8 5-6 11, Joe Simpson 1-5 0-0 2. Totals 14-46 24-34 52.
Heritage 8 11 9 13 — 41
Seabury 14 10 7 21 — 52
Three-point goals: Heritage 9-31 (Feighner 4, Tassy 4, Schutte); Seabury 0-9. Fouled out: Schutte, Baxter. Turnovers: Heritage 15, Seabury 11.
Bishop Seabury Academy's boys basketball team had a recipe for disaster coming into sub-state play on Tuesday night. There were bad practices leading up to the game, and freshman point guard Mikey Wycoff, the team's leading scorer, was forced to sit out after he rolled his ankle Monday.
Despite the frustrating week, the Seahawks used a team effort to roll to a 52-41 victory over Olathe's Heritage Christian Academy in the first round of Class 2A sub-state at Seabury.
The Chargers tied the score at 28-all in the final minute of the third quarter before Seabury sophomore Jomain Rouser converted a layup, drew a foul and made the free throw to put the Seahawks up by three points.
Senior Thomas Uhler opened the fourth quarter with two baskets on back-to-back possessions to give the Seahawks a 35-28 lead. Heritage wouldn't pull closer than five points for the remainder of the game, shooting 4-for-15 (27 percent) in the final period against Seabury's 2-3 zone.
"It really was a team deal today," Seabury coach Ashley Battles said. "I know some guys scored more points than other guys, but the reality of it is, everybody stepped up. For the most part, we went six-deep tonight because Mikey was out. Everybody elevated their game."
Wycoff, who averages 20 points per game and scored 26 points when Seabury (13-5) faced Heritage (8-12) on Feb. 21, is questionable for the next sub-state game.
"I'd be lying if I said I wasn't nervous not having Mikey (for Tuesday's game) because Mikey's played almost every minute of probably our last seven games," Battles said.
Without Wycoff leading the offense, senior Marcus Allen did his best impression in the fourth quarter, making five trips to the free-throw line with his drives to the rim.
"As a senior, I just feel like it's my job to do that," said Allen, who scored 11 points and added six rebounds and two steals. "I just kind of knew I had to adapt."
Sophomore Avery Rouser carried the Seahawks in the first quarter with the team's first 10 points.
"I just felt like my team really needed me in the first quarter," said Avery Rouser, who just missed a double-double with 16 points and nine rebounds. "Since our leading scorer was gone, we were just confused at first. I just needed to step up and help my team out."
Allen added: "We talked to (the post players) before the game. We told the bigs that they really needed to step it up today because they can do work, and they did."
Junior Bryce Copeland, who took most of the point guard duties, and senior Joe Simpson combined for five of the team's 11 steals on defense. Avery and Jomain Rouser and Uhler used their length in the post of the zone defense to force the Chargers to shoot from outside, where they struggled, going 9-for-31 from three in the game.
"Bryce played as good of a game at lead guard as we could have hoped for," Battles said. "Did he make some errors? Sure. But he limited those."
Seabury's defense held Heritage's Jack Feighner to 14 points after he drilled eight three-pointers against the Seahawks in the regular-season matchup last month.
"Anytime you win in sub-state, anytime you advance, it feels really, really good," Battles said. "You make errors on defense, errors on offense, they don't matter now. That game is done, we move on to our next game."
The Seahawks will face Mission Valley in the second round of sub-state at 7:30 p.m. Friday in Eskridge.
Copyright 2018 The Lawrence Journal-World. All rights reserved. This material may not be published, broadcast, rewritten or redistributed. We strive to uphold our values for every story published.