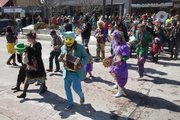 Mike and Katie West brought a taste of New Orleans to Lawrence when they moved here from the Crescent City eight years ago. And dozens of their fellow Lawrence residents are apparently glad they did.
About 150 people — decked out in masquerade masks, colorful wigs and, of course, beads — marched down Massachusetts Street on Tuesday for the seventh annual Mardi Gras parade, a tradition started by the Wests, a husband-and-wife musical duo who relocated to Lawrence in 2005 after their New Orleans home was destroyed by Hurricane Katrina.
The crowd began to gather in front of Aimee's Coffeehouse in the late morning, a cornucopia of purple, green and gold. Some came bearing instruments; most wore wacky outfits. The gathering of costumed partiers smelled like a smoky secondhand store.
Mike West, rocking a blond wig, fake eyelashes and bright red lipstick, led the procession, playing a banjo and shouting Mardi Gras ditties like "Down by the Riverside." Kids hopped on pogo sticks and blew bubbles. Parade-goers drummed on buckets, the tops of trash cans, even, in the case of one woman, a rock.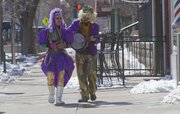 Liz Weiler, of Lawrence, marched in the parade last year and has since decided to make the Mardi Gras event a yearly tradition, even calling off work Tuesday for the occasion. She brought friend Matt Bechtold, of Topeka, along for the stroll this year.
"It's great to go into local businesses and jam," Weiler said, right before the parade rolled through Ingredient restaurant, giving employees and customers some Fat Tuesday cheer.
"Need a kazoo?" someone asked Bechtold.
"I brought my own, but she might," he said, referring to Weiler, as Mike West threw beads to any member of the crowd who wasn't wearing them.
"I was born in New Orleans so this is definitely a tradition," noted Steve Hinton, of Lawrence. "It's a great thing to have in Lawrence."
David Haney was visiting Lawrence — where he lived 10 years earlier — when some friends told him about the Mardi Gras parade. The Greensboro, N.C., native thought it was a good chance to have some fun on a Tuesday afternoon, as well as break out his bass clarinet, which he proudly played.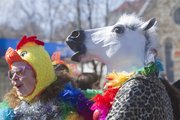 The parade was also a perfect opportunity for Kristin Colahan, of Lawrence, to show off her talents. Colahan, a Kansas University theater graduate and self-described "collector of costumes and fun stuff," made her get-up, which looked like Big Bird decorated like a Christmas tree, for the parade a few years back. This year, she got her friend Glenn Baughman, of Wichita, in on the action, helping him make his costume, which featured a leopard-print shirt and rubber horse head.
Copyright 2018 The Lawrence Journal-World. All rights reserved. This material may not be published, broadcast, rewritten or redistributed. We strive to uphold our values for every story published.