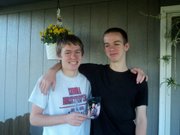 An already small community basketball team was planning to play two short Monday night, after a father and son on the team were killed in a weekend crash.
Many in Eudora are mourning the loss of Dylan Strickell, 17, and Rodney Strickell, 53, who died Saturday evening after the car they were in collided with an SUV at the intersection of U.S. Highway 56 and County Road 1061, east of Baldwin City.
Teammate and friend Troy Kraft, of Eudora, said the Strickells had been scrimmaging at the Eudora recreation center about an hour before the wreck. He guesses they were headed to Wellsville, where Rodney lived after moving from Eudora a few years ago. Dylan attended Eudora High School through his junior year and moved to Lawrence last year.
At family's suggestion, the Rebels planned to keep their scheduled basketball matchup Monday at the East Lawrence Recreation Center, Kraft said, even though it was going to be tough.
"It's a pretty big blow," said Kraft, who was a classmate of Dylan's. "If someone like that dies in a small town, everybody just knows about it."
Kraft moved to Eudora his freshman year of high school and befriended Dylan, whose two favorite pastimes were playing XBox and basketball, he said.
Neither of the boys played on the school team, but they took the bus to the rec center after school to play almost every day for fun. When they decided to form a team with some other friends, Rodney stepped in to be their coach, Kraft said. After switching to a men's league, they all played on the team together.
Kraft described Dylan as quiet around strangers but outgoing around friends. He was kind, considerate and, like his father, "really nice to everybody," Kraft said.
Dylan attended Lawrence public schools in the fall but was not attending this spring, a district spokeswoman said.
Though Dylan was not currently enrolled in Eudora schools, district communications director Kristin Magette said the Eudora district would provide counseling support to students who needed to talk about his death.
His family had deep roots in the community, she said, and "he was definitely a Eudora kid."
Copyright 2018 The Lawrence Journal-World. All rights reserved. This material may not be published, broadcast, rewritten or redistributed. We strive to uphold our values for every story published.