I have a confession to make: I don't know how to cook. Or, at least, I didn't think I knew how.
Let's back up a bit. For the past several months, Just Food has been offering cooking classes to show people how to prepare healthy, fresh meals for $2 or less per serving. The Lawrence food bank hopes to change the perception that cooking on a tight budget means sacrificing one's health in the process.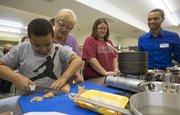 Just Food CEO Jeremy Farmer often points out that low-income people don't have to live off macaroni and cheese and Hamburger Helper. When they eat nothing but processed foods high in salt and sugar, they often develop conditions like diabetes and high blood pressure, the cost of which far outweighs any savings on food.
For its part, the pantry has been stocking more fresh produce in place of processed food. But giving people healthier stuff to eat doesn't do them much good if they don't know what to do with it. So last year the pantry began hosting the free cooking classes, the brainchild of Lawrence chef Rick Martin. Because I'm not a rich man and I don't know how to cook, I figured they would be perfect for me.
I arrived at Tuesday's "Just Cook" class to find out we would be having a "fiesta," or cooking Mexican food. Jahmal Clemons, a volunteer instructor (and fellow employee of The World Company) whom you might call an amateur chef, noted that planning is an important part of eating on a budget, especially because it allows you to buy in bulk (and save money) as well as have food on hand for the entire week.
Then it was over to the cooking stations, where we were to prepare Mexican chicken stew with quinoa and beans (a recipe Clemons found on Pinterest; he also recommends YouTube for meal ideas). I've had quinoa before but never knew how to pronounce it correctly; most of my classmates had never even heard of it (KEEN-wah is a gluten-free, protein-laden seed that makes a good substitute for rice or pasta). In addition, stews are a great way to eat on a budget, because you can enjoy the leftovers for days.
The women in my group started chopping the tomatoes and onions and cutting the chickens, and I was left feeling like I often do at home during meal preparation: left out. I made myself useful by opening up the cans of tomatoes and pinto beans.
One of my table mates, Kim Jolliff, said she usually eats the types of boxed meals — macaroni and cheese, etc. — the class is trying to encourage her to avoid. The Baldwin City woman decided to take the class, in part, because she recently started gardening, something else Just Food has been pushing with its own foray into growing produce. Another of my fellow chefs, Renea Willie, of Lawrence, said she prepares the meals at her household, but noted: "I think you can always learn something new no matter how long you've been cooking."
As the night went on, I took a more active role, stirring the pot, boiling the quinoa, mixing in the pinto beans (I only burned myself once, and only slightly at that). When everything was done, we scooped the quinoa and pinto beans into bowls, topped them with the Mexican stew and a dollop of fat-free yogurt, and enjoyed.
At least I did. The consensus among my three compatriots was that the dish was good but a little too spicy (I'd say it wasn't spicy enough). At the end of the night, Clemons revealed the cost of the dish: $2.03 per serving. (The ingredients cost $12.18 but make enough for six servings).
I brought some home for my fiancee and she liked it as well (though she also thought it was a bit too spicy). She even seemed to believe that I helped cook it. The true test, though, will be whether I apply the lessons I learned going forward.
The class, rather than giving me recipe ideas or cooking tips, taught what I pretty much already knew: While we might not all be master chefs, most us know how to follow directions. You can tweak flavors according to your palate, but as long as you can understand a recipe's instructions, you should be able to create something tasty. Cooking takes effort, time, patience and practice. But the results make it worthwhile: a happy, healthy family — and leftovers.
Copyright 2018 The Lawrence Journal-World. All rights reserved. This material may not be published, broadcast, rewritten or redistributed. We strive to uphold our values for every story published.