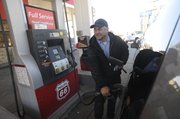 Ding, ding.
In 1981, that sound still produced magic as often as "abracadabra."
A car would pull up to something called a "service station," its tires would roll over a little rubber hose that would trigger a bell, and a man with a squeegee and a red shop rag would emerge like a rabbit out of a hat.
And then, get this, he would fill your car up with gasoline. Yes, you still had to pay for it (even magic has its limits). But he would take care of the mundane task while you sat in the comfort of your car, bopping your big hair against the headliner as either Boy George or George Michael played on the radio.
In 1981, Richard Haig had the squeegee. Back then he was just an employee at the Westside 66 filling station, 2815 W. Sixth St. Back then, that area — now across the street from a Dillons grocery store — was a museum but just didn't know it. There was the El Navajo Drive-Up Motel, a little farther west the Sunset Drive-In Theater, and a full service gasoline station.
In 1981, there were still at least 20 filling stations in Lawrence that offered full service, Haig estimates. That was a good portion of all the gas stations in town, but already stations were starting to give motorists the option of pumping their own gas. In 1957, when Westside 66 was founded, you might as well have spit on a fellow's wingtips as suggest that he pump his own gasoline.
Today, there is only one full-service station in Lawrence. You guessed it. Haig still has the squeegee, although just two of the station's pumps are full-service.
"We have people who think they're pulling up to a self-service pump," says Haig, who has owned the station since 1985. "When we come out to start pumping their gas, we get some blank stares."
Perhaps some of you have blank stares at the moment. In case you don't know, here's how full-service fueling works. At Westside, you pay an extra 30 cents a gallon for the gasoline. In exchange, a mechanic from the station's shop pops from behind a garage door, pumps your gas, washes your windows, checks your tire pressure, and checks your fluid levels. If you are a quart low on oil, for example, that will cost you extra to have it filled. But if you just need a little bit of windshield washer fluid or coolant, that comes with the 30 cent per gallon fee.
The advice also is free. You do have a trained mechanic right there, after all. If you want to ask him why your car goes ticka, ticka, ticka, ticka, you can do so. (I suppose you also could just start it up and let him listen to it, but that doesn't seem like as much fun.) Or if a fuse or a windshield wiper needs replaced, no need for an appointment. Your gas attendant can do it on the spot.
If you didn't know any of this, don't feel bad. Most communities don't have any full-service stations anymore. The latest estimates I found from the convenience store industry put the amount of self-service stations in the U.S. at over 90 percent. It would be even greater if not for laws in New Jersey and Oregon that prohibit self-serve pumps.
"As long as I can keep it going here, I will," Haig says of his plans.
Part of that probably will depend on whether anyone wants service in the future. It has been kind of strange, but the generation that made sitting on a couch with a video controller in your hand a national pastime, is perfectly fine with getting out of their cars and pumping gas. In the 1980s, Haig says about 50 percent of all the gas his station sold was through the full-service pumps. Now, it is about 20 percent.
"But we still get all types of people who use the service," Haig says. "Rich people in suits who don't want to get dirty. Moms who don't want to leave the kids alone in the car. Some people just want to take a breath."
But why is Haig so insistent on keeping this bygone practice? Simple: the bread. No, that's not slang for cash. Haig concedes that most months full-service doesn't pencil out well for the station. He's talking about actual bread.
For years, a customer would bring him and some of the guys at the station German Stollen, a fruitcake-like bread, around the holiday. Haig had noticed her license plate one time when he was pumping her gas. It was IH82FLY: I Hate to Fly. Haig, who is the chair of the city's Aviation Advisory Board, is an airplane nut. So, it was the beginning of a back-and-forth that would last for years. The woman recently passed away. Her son showed up at the station with a license plate. She wanted Haig to have it.
"I would say that 90 percent of our customers are like family," Haig says, sitting next to the license plate that hangs by his desk. "We know when they are having struggles. We know when their kids are doing well with sports. A lot of this is the old 'Cheers' effect. People like to have a place where they know your name."
It is a relationship that you never know what it will produce. Haig has another memento hanging on the wall that is proof of that. It details the time Haig crashed a B-2 Bomber. Well, a B-2 Bomber simulator, anyway. Haig and another group of Lawrence pilots got the rare chance to fly the B-2 simulator at Whiteman Air Force Base because one of Haig's customers arranged it.
Haig had arranged a little something for him earlier. The longtime customer had told Haig during one fill-up that he had cancer, and doctors were measuring the time in weeks, at that point. Haig and some pilots pooled some resources to fly the customer to Houston's famed M.D. Anderson Cancer Center.
"It if wasn't for the people element of this job, I would find something else to do," Haig says.
The Houston treatment helped the man live peacefully for two years longer than doctors had originally expected. Think about that for a moment. Two extra years of life that started because a man decided not to swipe his card at the pump. Two extra years that began by one man serving another.
Ding, ding.
— Each Sunday, Lawhorn's Lawrence focuses on the people, places or past of Lawrence and the surrounding area. If you have a story idea, send it to Chad at clawhorn@ljworld.com.
Copyright 2018 The Lawrence Journal-World. All rights reserved. This material may not be published, broadcast, rewritten or redistributed. We strive to uphold our values for every story published.