Photo Gallery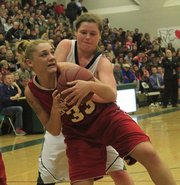 LHS girls at Free State
Box score
FREE STATE (60)
Lauren Johnson 1-2 1-2 3, Adriana Jadlow 8-13 1-2 17, Scout Wiebe 5-12 2-4 13, Madison Piper 3-10 3-4 10, Millie Shade 5-9 0-0 13, Maren Kahler 0-1 0-0 0, Hannah Shoemaker 2-2 0-2 4. Totals 24-49 7-14 60.
LAWRENCE HIGH (51)
Olivia Lemus 0-1 0-0 0, Skylar Drum 0-0 3-4 3, Brook Sumonja 1-6 0-0 3, Makayla Bell 4-7 2-5 10, Marissa Pope 2-13 2-3 7, Hailey Belcher 2-5 3-4 8, Matia Finley 0-1 0-0 0, Kionna Coleman 6-15 3-6 15, Jolona Shield 2-5 0-0 5, Nesreen Iskandrani 0-1 0-0 0. Totals 17-54 13-22 51.
Lawrence 6 10 18 17 — 51
Free State 18 8 16 18 — 60
Three-point goals: Lawrence 4-14 (Sumonja, Pope, Belcher, Shield); Free State 5-17 (Shade 3, Piper, Wiebe). Fouled out: Bell. Turnovers: Lawrence 13, Free State 10.
-->
-->
Her coach and teammates knew Free State High junior forward Adriana Jadlow had a big scoring night in her. Otherwise, they would not have felt so comfortable teasing her, repeatedly calling her "just a passer."
On Friday night in the City Showdown, the Firebirds needed The Passer to become The Scorer, and Jadlow answered the challenge in a big way.
Jadlow scored six of her career-high 17 points in the first quarter and was a big reason host Free State defeated Lawrence, 60-51, in front of a capacity crowd.
She had plenty of company in getting off to a quick start as the Firebirds threatened to blow out LHS with a 23-6 lead early in the second quarter. But a 14-5 run brought the Lions back into it, and an effective full-court press in the fourth quarter kept them a monster run away from pulling off an upset.
Lawrence didn't win the game but did win more respect than in recent years.
"They've gotten a lot better," Jadlow said of the Lions, who have a 10-game losing streak against their cross-town rivals. "They're much harder to guard than they used to be."
Seniors Kionna Coleman (15 points) and Makayla Bell (10 points) led the Lions (6-14), who open sub-state play Wednesday on the road against an opponent to be determined by a coin flip.
Free State (9-11) opens at home at 7 p.m. Wednesday in a sub-state opener against Wichita East.
Millie Shade and Scout Wiebe — joined as Senior Night honorees by playmaker Maren Kahler — scored 13 points apiece for the Firebirds in support of Jadlow. Freshman Madison Piper added 10 points.
Jadlow said she sensed no clues heading into the game that this could be a career scoring night for her, eclipsing her previous high by four points.
"Not at all," she said. "I just tried to play my best for the seniors."
Duncan referred to Piper, Wiebe and Shade as the "big three" scorers on the team.
"We've been talking about how we're not just the big three and how we need other people to get comfortable and find spots where they can hit shots," Duncan said. "Those are our established three, and after that we don't get a lot of scoring. For Jadlow to step up and score 17 for us tonight was just outstanding."
Piper, the team's leading scorer, didn't drop her shots at her normal high rate, so The Scorer became The Passer. Like a great pool player who sees shots most others don't, Piper saw passes where others might have seen just a sea of defenders. Her lasers arrived on target, on time and turned into buckets for teammates all night. Piper scored all 10 of her points in the second half.
"We had a really great start tonight, no question, and we've had a lot of really good starts this season," Firebirds coach Bryan Duncan said. "They did a lot of great things to make a competitive game after we got off to that start. My hat's off to them, and my hat's also off to our kids, too, for fighting back after their run."
Lawrence High coach Nick Wood expressed pride in the improvements his players have made .
"Our girls battled hard," Wood said. "They've been battling hard all year. It's just that we got in a hole, 23-6, and it's hard to come back from that."
Despite not winning a game against Free State during their careers, Coleman and Bell left the rivalry in style.
"They're our two bigs, and I ask a lot of both of them," Wood said. "I ask them to pick up full court, trap, fly around and also create a lot of offense for us."
Coleman is in her third year as a starter for the Lions, Bell her first.
"From the time she walked through our doors as a freshman to now, her growth, both as a basketball player and as a person, has been amazing," Wood said of Bell, who signed to play basketball at Neosho County Community College. "As a coach, to see that growth is really special."
Copyright 2018 The Lawrence Journal-World. All rights reserved. This material may not be published, broadcast, rewritten or redistributed. We strive to uphold our values for every story published.