Photo Gallery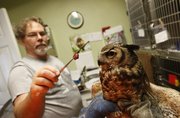 Operation Wildlife
Images from a day of feeding and caring for the various animals at Operation Wildlife
How to help
To donate to Operation Wildlife, go online to owl-online.org or mail checks to the clinic at 23375 Guthrie Road, Linwood, KS 66052. For more information, contact director Diane Johnson at opwildlife@aol.com or 785-542-3625. Operation Wildlife also has an animal intake facility at 11218 W. 75th St. in Shawnee.
LINWOOD — Despite a strategically placed fan, sweat poured from Diane Johnson's brow Monday as she examined a broken-winged great blue heron on the surgical table at Operation Wildlife.
The air conditioning there has been out for two weeks, the most recent blow in a string of breakdowns at the wild animal rehabilitation clinic in rural Linwood.
Johnson, the director, said Operation Wildlife faces an unexpected $12,000 in repair costs after its well, washing machine and air conditioner all went out in the past month — the peak of baby animal season.
The hotter-than-usual warehouse this week is teeming with wee skunks, ducks, bunnies, songbirds, opossums and raccoons. There's also the usual injured animals ranging from a mangy red fox to a great horned owl with head trauma. Plus the human volunteers caring for them.
"Things can't just happen one at a time...," sighed senior volunteer Milly Norris, via phone from Operation Wildlife's satellite intake center in Shawnee.
About a month ago Operation Wildlife learned the bottom of its circa-1940s well was collapsing, Johnson said. Sand started showing up in the water, and flow decreased as pipes filled with sediment.
"We were running out of water, and we have 400 animals here," Johnson said. "We can't afford to run out of water."
Initially, they thought they'd have to drill a new well altogether, Johnson said. After a few second opinions, they found a contractor who reconditioned the well instead — on credit. The well fixed, Operation Wildlife was able to flush out water lines but had to replace its washing machine and a number of faucets and valves damaged by sediment.
A couple days later, the air conditioner went out. Johnson said she's getting bids and trying to decide whether to repair it or go without for this season. She's really hoping to find money for repairs.
"We've got fans and stuff, but it's not enough," Johnson said.
Operation Wildlife, a 501c3 organization, is the state's largest publicly funded wildlife clinic. It is licensed by the government but receives no state or federal funds, instead relying entirely on donations.
Johnson said Operation Wildlife takes in 4,000 to 5,000 animals a year and releases almost 70 percent back into the wild, using some that are not fit for the wild as ambassadors for public education and outreach. The clinic provides veterinary services to injured animals and nature-mimicking foods for all its creatures.
The heron — which arrived in the trunk of someone's car after being picked up from the side of the road outside Burlingame — had a broken wing but will be a good candidate for surgery, Johnson said.
"What we do is expensive," Johnson said. "We do whatever it takes to get animals back out into the wild."
Copyright 2018 The Lawrence Journal-World. All rights reserved. This material may not be published, broadcast, rewritten or redistributed. We strive to uphold our values for every story published.