Lawrence Police Chief Tarik Khatib gets paid to worry about worst-case scenarios.
These days, more than a few worries are parked at the city facility known as the Stone Barn Terrace garage near Clinton Parkway and Lawrence Avenue. That's where the city's armored vehicle is stored.
Photo Gallery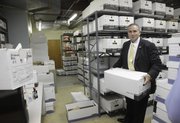 Lawrence Police facilities tour
Photographs from a tour of Lawrence Police Department operations, which are spread over six buildings throughout town — a circumstance that department leaders say produces significant inefficiencies. Lawrence Police Chief Tarik Khatib is hoping Lawrence city commissioners and the community will support the construction of a new police headquarters building.
In an odd twist, the city's armored vehicle sits in a garage that has no security system. It also doesn't have any police officers nearby. They're all stationed a few miles away either at the Law Enforcement Center at 11th and Massachusetts or at the Investigations and Training Center near Bob Billings Parkway and Wakarusa Drive.
All that adds up to a worry that Khatib can summarize with a number: 40 minutes. That's how long he estimates it would take for the city's armored vehicle to respond to a pressing emergency. Khatib said it really should be 10 minutes or less. Part of the lengthy response time is due to travel time for officers to arrive at the off-site garage, but part of it is to pack the armored vehicle with the necessary weapons and equipment. Khatib said he can't allow tactical weapons to be stored in a vehicle that sits in an unmonitored garage.
Armored vehicles aren't used often, but think about when they might be: a school shooting situation, a gunman on campus, a hostage crisis, to name a few. Now, think about what the public's reaction would be when it finds out that an armored vehicle could have made a difference, if only it didn't take 40 minutes to get out of its garage.
"People are not going to understand why that happened," Khatib said. "It won't be acceptable."
The public is getting a lesson in police issues that are tough to understand. Voters in November likely will be asked to approve a tax increase of some sort to fund a new police headquarters that would bring the entire department and all its equipment under one roof. But already, members of the public have had a hard time understanding the estimated $30 million price tag for the building.
After all, you can build a really nice garage for far less than that. Khatib understands the questions, but he's also seeking to assure the public that the need for a police headquarters goes far beyond the garage issue, leaking roofs, worn-out flooring and other issues that have been reported on before.
There is another number that produces a different type of worry for Khatib: 1,100 miles. That's a conservative estimate of how many miles per month police department personnel drive between the department's two offices and other off-site storage locations.
Khatib said it is a huge inefficiency within the department. If personnel are all in one location, it not only would cut down on driving time, but the collaboration that could occur between detectives, police officers and crime analysts, for instance, could help solve cases more quickly and aid in crime-prevention efforts.
"We won't be able to increase this department's efficiency without addressing the facility issue," Khatib said.
Khatib and Capt. Paul Fellers recently conducted for the Journal-World and others a tour of the various police department facilities. Here's a look at what we saw:
• The joke in the Law Enforcement Center at 11th and Massachusetts is that there is a reason the snack machine is located right outside the door of the police department's evidence storage room. Open the door to the evidence storage room, and an overpowering smell of marijuana greets you.
"We get complaints from people in other parts of the building who smell it too," said Keith Jones, the department's evidence custodian.
The evidence room is just a portion of the former county jail that was converted to store items. Its ventilation system isn't equipped to handle the marijuana situation.
But Jones said the more pressing need is simply finding enough space to store everything. For the past eight years, the department has been using a homemade system to store smaller items between the rafters of the ceiling. A large round heating duct that runs through the ceiling has everything from stuffed animals to moderately heavy boxes stacked on top of it.
• This isn't the death row that you are thinking of. This one is a utility shelf full of cardboard boxes. It contains physical evidence on homicides that have occurred in Lawrence. State law requires the police to keep that sort of evidence forever. The shelf is in one of Douglas County's Public Works buildings along 23rd Street. The shelves sit in a loft that was built by police officers who happen to have some good experience building decks. Heating and air-conditioning wasn't as much of a specialty. During the summer, Jones estimates temperatures in the loft frequently exceed 120 degrees. The effects the heat may have had on the evidence isn't known because the boxes aren't regularly checked. To do that would require a good flashlight. The metal building, which is full of evidence, only has one light, and it is on the ground floor.
• The cement blocks of the former Morton Block building along E. 15th Street have held up better than the roof. The building, which is owned by the city, is used as another evidence-storage location. On this particular day, at least a quarter-inch of water covers a good portion of the cement floor. The smell of mold is strong, and it has begun to grow on the side of some equipment in the building. Fellers said the department uses the building to store vehicles that have been impounded as part of an investigation. On more than one occasion, he said, the department has had to pay to have the cars professionally cleaned of mold before they were returned to their owners.
"This building really upsets me every time I come out here for a tour," Khatib said.
• At the Investigations and Training Center in west Lawrence, there are about 60 employees in what used to be an office building for an environmental services firm. The chief of police and his top administrators are housed at the facility, in addition to the detectives. However, in the case of an emergency that resulted in the loss of power for the community, those police department leaders likely would have to set up shop elsewhere. The building does not have a backup generator system.
• Before he became the chief, Khatib recalls a locker room conversation that he had inside this building. Forty-seven people are stationed at the building during normal working hours. There are approximately 24 lockers. It brings up a natural question that Khatib once asked when he was a younger member of the force: How is it decided who gets a locker?
"The answer was," he recalls, "'Khatib, you take whatever you think you're man enough to get away with.'"
A similar locker shortage exists at the Law Enforcement Center in downtown, and the lack of lockers is more pronounced for female officers.
• There are numerous space issues Khatib points to at the west Lawrence building. He's concerned that there is not enough lobby room to adequately separate a victim's family from a suspect's family. He does not like that suspects have to walk by detectives' desks to get to the building's interview rooms. He said the building is critically short of training space, including an indoor firing range.

But there is also another aspect of the building worth noting. Only about 20,000 square feet of the 40,000 square-foot building is occupied. A department that is facing space shortages has 20,000 square feet of unfinished space just on the other side of a wall.
The department uses the space for some storage needs, but the city hasn't pursued a major renovation of the space. Khatib is not advocating for such a renovation either. He said he knows that the department could undertake some projects to fix some issues such as locker-room space, generators and other such issues for far less than $30 million. But he's argued that would be a poor investment of city money. He has been insistent that the police department needs a building that is designed to be a police building.
"Do you want to take a front wheel drive station wagon and turn it into an off-road vehicle?" Khatib asks. "This building is a front wheel drive station wagon. We need the Jeep."
Architects hired by the city also have urged commissioners to fight the urge to build a new police headquarters in phases. That may save some money in the short term, but could create longer term costs and hamper some efficiencies, architects argue. The idea of phasing the construction of the building, however, is still being considered by commissioners.
Mayor Mike Amyx said he expects to receive an updated report from architects related to building costs, size and site issues in July. Soon thereafter, commissioners will have to decide whether to put a tax increase question on the November ballot.
In the meantime, Khatib said he'll keep spreading his message to whoever will listen.
"I tell people all the time that none of this is to create an empire or a Taj Mahal," Khatib said. "I just think I understand what the community expects from its law enforcement, and I'm trying to get us the tools to deliver that."
Copyright 2018 The Lawrence Journal-World. All rights reserved. This material may not be published, broadcast, rewritten or redistributed. We strive to uphold our values for every story published.