Photo Gallery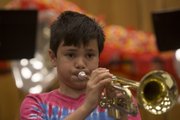 Middle School Summer Jazz
Within the walls of Lawrence High's air-conditioned band room, another layer of cool was laid down before lunchtime on Tuesday. In the twilight of its annual two-week iteration, the middle school summer jazz program played on as more than 30 students assembled for what amounted to a 90-minute jam
Within the walls of Lawrence High's air-conditioned band room, another layer of cool was laid down before lunchtime on Tuesday.
In the twilight of its annual two-week iteration, the middle school summer jazz program played on as more than 30 students assembled for what amounted to a 90-minute jam — save for a few punctuations, like the time a student set off on a riff of "The Lion Sleeps Tonight."
"Here's a teaching moment," LHS band director Mike Jones said, extending both arms to halt the music. "Jazz players do that all the time. That was cool!"
The group took up instruments around midmorning as Jones took his place inside the circle the students formed. As the jam wore on, Jones toured the room to beckon students to stand up for solos. "I think you have more to say," he'd occasionally tell a performer, asking for his or her tune to walk a little longer.
Each student plunked down $60 for the two-week introductory course for incoming seventh- and eighth-graders in the district. During the program, traditional band instruments like oboe, bassoon and baritone are taught alongside common jazz instruments like trombone, trumpet, piano and drums.
Another day complete, as the students packed up their instruments and filed out of the room, Henry Dewitt played a few more notes on his saxophone. Dewitt, an incoming Southwest Middle School seventh-grader, said he started playing the instrument earlier this summer.
"I just always liked the sound," he said.
Sitting next to fellow musicians helped build his confidence while hearing tunes from peers from other schools.
"I wasn't very good at reading music before this," Dewitt added. "This is helping me."
Jones said the aim of the course was twofold: to give students jazz improvisational experience they won't normally have during typical classes and to keep them playing during the sleepy summer months.
"It's always good to have them playing," Jones said.
For the students who go on to join Jones' program as freshmen, he said, few are doing so while picking up an instrument for the first time. And, who knows, maybe more than several return one day to play a longer tune.
"I don't know if they realize they're at LHS but I think subliminally it makes them think there's life after their middle school band room," Jones said.
Copyright 2018 The Lawrence Journal-World. All rights reserved. This material may not be published, broadcast, rewritten or redistributed. We strive to uphold our values for every story published.