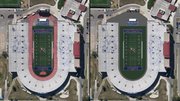 When Kansas University football players take the field this fall, they won't cross a track to get there.
Removal of the track that surrounds the playing surface at Memorial Stadium is set to begin Tuesday. The process, as first reported by the Journal-World on Friday, is expected to take six weeks and will be finished before the 2014 season.
The track has been a hot topic with KU fans for years, and Kansas athletic director Sheahon Zenger decided to move forward with the project Friday morning after final details were presented to him.
The track will be replaced by turf that will extend 37 feet from the sideline, leaving just 10 feet of black "drainage asphalt" between the turf and the stands. In addition, a decorative fence will replace the chain-link fence on the south end of the stadium.
Zenger told the Journal-World on Friday that an anonymous donor, who had previously shown interest in helping fund such a project, reaffirmed that commitment in recent weeks. Total cost is expected to be roughly $500,000.
"This was less about cost and more about the safety of our players and the aesthetics of our stadium," Zenger said.
Zenger said that ongoing discussions with KU football coach Charlie Weis helped reinforce that player safety and creating a better practice environment in Memorial Stadium were top priorities. In addition, donors and fans consistently voiced to Zenger that their first desire for stadium improvements was the removal of the track.
"It's what our players wanted, it's what our coaches wanted and it's what the majority of our fans, as we crisscrossed the state, said they wanted," Zenger told the Journal-World. "We were the last major program in the country still with a track around its football field, and I think that sent the wrong message about our commitment to football. This is now a football-only facility."
Zenger reiterated that this was merely the first step in upgrading Memorial Stadium and that the major renovations he hopes are on the horizon likely remain a couple of years out.
"This is step 1A of four or five steps," Zenger said. "It's an intermediate step to our greater renovation plans of what I truly feel is a great traditional stadium."
When faced with the dilemma of whether to act now or wait to address the track as part of a bigger project that could include lowering the field, Zenger said his staff made a compelling argument — the athletic department already had been paying six-figure sums annually for upkeep of a track that will no longer be used. Kansas' new track facilities at Rock Chalk Park opened this spring.
Thanks to the generosity of the donor, Zenger said, the idea of immediate improvements won out because it provided the greatest benefit to the greatest number of people.
"Rather than make our players wait for a safer and better playing surface, the decision was made to move forward now," Zenger said. "People kept asking about taking the track out and my response was always, 'What are we going to put there?' From there, the staff went to work and came back with great solutions that will benefit our players and our fans."
Copyright 2018 The Lawrence Journal-World. All rights reserved. This material may not be published, broadcast, rewritten or redistributed. We strive to uphold our values for every story published.