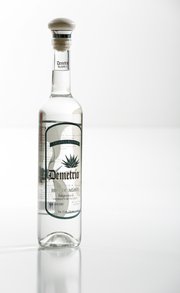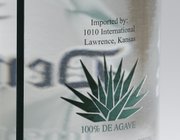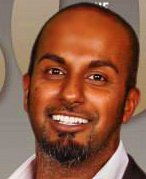 Each bottle of tequila sold outside of Mexico bears the inscription of two cities' names. The first is from the Mexican state of Jalisco, the only place where the spirit can be produced per Mexican law. The second is the location of the importer who brought the bottle across the border.
Three bottles produced by a young brand called Demetrio now bear Lawrence's name.
Demetrio is the brainchild of two brothers who immigrated to Kansas with their parents to escape Sri Lanka's civil war in the 1980s. Marion and Gracian Mariathasan, also Kansas University alumni, added Demetrio to a handful of enterprises after discovering a family who has made the craft of tequila a multigenerational practice.
"I'm just one of those people always on the lookout for something fun and cool to do and how to make it into a business," Marion said.
When the Mariathasans left Sri Lanka, they already had family ties to Kansas. Marion and Gracian, 9 and 10 at the time of the move, lived in Emporia with their parents until graduating high school and eventually making their way to Lawrence. Although Marion now lives in Denver, he said he returns to Lawrence at least twice each month. Gracian lives in Kansas City and makes a trip to Lawrence at least once a week to visit their parents, who moved here in 2002.
Demetrio is just the latest venture for Marion, who started a software company that provides employment to Sri Lankans and a philanthropic social media site called SoRewarding. The latter would become entwined with Demetrio.
The brand sprang from a wine and spirits import company the Mariathasans' founded in 2002. An uncle working in real estate in Mexico clued them in on a tequila-producing family who wanted to go mainstream, Marion said. Nine months later, by April 2012, Demetrio became reality, the Mariathasans having rebranded it from an unsightly bottle whose name originally meant "Three Martyrs" in Spanish.
•••
The new bottle is slender and tall, eliciting comparisons to Audrey Hepburn's frame in a review on tequilaaficionado.com. The same reviewer remarked that the bottle's size prevented one from burying it behind other bottles on a liquor shelf.
Demetrio is named for the original owner of the single-estate plantation from which it is sourced. Much of the time that followed Demetrio's unveiling amounted to the Mariathasans taking their first steps in a new market that was new to them. This included entering their blanco — or young, barely aged tequila — into a competition on tequila.net. To their surprise, they earned a "best of the best" award. A gold award followed for their reposado, tequila aged up to nine months, at a Las Vegas competition. They also earned silver for their añejo, tequila aged up to three years, at the New York World Wine and Spirits competition.
They found an early client in Dave Boulter, a longtime Lawrence friend and owner of Henry's on Eighth, one of the brothers' college haunts.
"I generally hate tequilas, but this one is actually drinkable even for someone who doesn't like tequila," Boulter said.
A bottle of Demetrio can cost anywhere from $20 for a blanco up to $40 for añejo. "The idea for us was good tequila, like anything, shouldn't only be enjoyed by those who can afford it," Mariathasan said.
•••
It didn't take long for Marion to find a way to tie in his philanthropy with tequila. With each bottle sold, he said, Demetrio donates 25 cents to Water for People, a nonprofit that helps create sustainable water development for countries.
"For us with the luxury to pay premium prices for a liquid that makes us all warm and fuzzy, we should be giving back to a nonprofit that funds the essence of life," Marion said, also noting the importance of water in the production of tequila.
The next round of bottles set for distribution, meanwhile, will come with the wristbands for SoRewarding, which Marion calls "the Facebook of philanthropy." Each wristband has an identification number that can be plugged in online. Marion said the idea is for people to perform acts of kindness for strangers, pass the wristband to them and encourage them to do the same while writing about how they received the wristband.
"A year from now that wristband could have made its way to China," he said.
Demetrio wasn't the first company to co-brand with SoRewarding, Marion said, pointing to Montana State University, Rolls Royce and the Special Olympics as forebears.
"All this stuff is really about creating a community, a sense of happiness and a sense of communication," Marion said. "The idea of our tequila is a do-good, feel-good concept."
He could go on.
"Marion is like an ambassador," Boulter said. "Whenever he walks into a room, people want to chat with him. He really creates a party."
Marion's older brother, Gracian, Boulter said, balances him out. Marion said Gracian, who also works for a Tulsa, Okla., oil company, prefers to stay behind the scenes.
"You can't leave a bar having interacted with them and not be happier," Boulter said. "They're kind of infectious."
Copyright 2018 The Lawrence Journal-World. All rights reserved. This material may not be published, broadcast, rewritten or redistributed. We strive to uphold our values for every story published.