You know those days when nothing goes quite right, and all you need is a freshly baked chocolate chip cookie to turn it all around? But because you don't feel like baking cookies from scratch, you resort to eating the uncooked dough? (Or is that just me? ... don't answer that.)
Enter Hot Box Cookies, and all is magically right in the world!
Hot Box Cookies, 732 Massachusetts St., is focused on freshly baked cookies, made-to-order and prepared to deliver. While it's an undoubtedly clever business model, I wasn't so sure we would really visit Hot Box Cookies that often. Am I really going to go out of my way to get a freshly baked cookie? Turns out, the answer to that question is a resounding YES.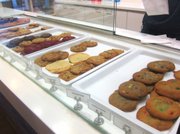 At a buck per cookie, it's a pretty sweet deal (pun intended). But in case you're not in the mood to jump off your keister for some warm treats, Hot Box delivers across Lawrence. So sit tight and that sweet tooth will be appeased in no time.
The menu does not disappoint. The all-star line-up includes: chocolate chip, M&M;, red velvet, oatmeal raisin, peanut butter, snickerdoodle, and monster, to name a few. My favorites are the peanut butter Reese's Pieces (genius, right?), and cookies 'n' creme (a cookie within a cookie, filled with semisweet chocolate chips, white chocolate chips, and Oreo cookie pieces). Need a minute to clean up that drool creeping down your chin?
If you want a twist on the basic cookie try the icing sandwich — yes, icing! This unique treat is made with two cookies smashed together with icing filling. Hot Box also offers ice cream sandwiches, brownies, brownie sundaes, shakes, cookie cakes and frozen cookie dough to bake later. As you can tell, there's no shortage of the sweet stuff here.
Hot Box is fantastically convenient, open until midnight most days (1 a.m. on Fridays and Saturdays), and probably one of the cheaper dessert options in town. For all of these reasons, our visits here have grown more and more frequent. It's a great option for an after-dinner treat, birthday in the park or sweet surprise for your crush (who wouldn't love a surprise cookie?).
So no need to wait for a bad day to treat yourself; stop in and make any day just a little bit sweeter.
— Jessica Pauly, aka Mrs. Mass., gives her thoughts on shopping, urban living and what's new in Lawrence in CheckOut weekly and on her blog, mrsmass.com.
Copyright 2018 The Lawrence Journal-World. All rights reserved. This material may not be published, broadcast, rewritten or redistributed. We strive to uphold our values for every story published.