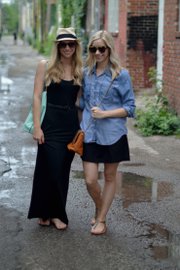 Getting up early and going to the farmers market is one of our favorite things to do on Saturday mornings. Whether we are browsing around the one in downtown Lawrence or opt to venture out to the City Market in Kansas City's River Market, we try to keep our style intact despite the early rise.
I'm always resisting the urge to slip into my yoga pants (the yoga pants almost always win), throw on a hat, a T-shirt and be out the door. Lately I've tried to show more effort and plan outfits that are functional, but still reflect my personal style.
My favorite outfits are ones that are effortlessly put together and require minimal thought or planning. When putting together my farmers market ensemble, I kept in mind my minimal effort and comfortable approach.
I threw together an outfit with a classic color combination and equally classic pieces. A black miniskirt is timeless, and it's always good to keep one in your wardrobe. Instead of tucking my chambray shirt into the skirt (which I would normally do), I chose to leave it out for a more comfortable, laid-back look — remember, it's only the farmers market!
A crossbody bag is always a style you should choose when you're walking around exploring. It's a no-fuss, functional piece that, again, you should have on hand in your closet.
Practical shoes are a must. You could do sneakers (I'm obsessed with my Converse) or a flat sandal.
Elizabeth went with the all-in-one piece with her black maxi dress — a fabulous choice! Maxi dresses will never go out of style; updated, yes, but they're not going anywhere. A solid black color is like a blank canvas because you have the ability to easily dress it up or down.
She dressed it down with a belt and flat sandals for the farmers market. The fedora is the perfect piece to accessorize with because it's right on trend and will shade you from the sun.
She chose a tote bag. Clearly I'm a crossbody fan, but tote bags are huge right now and you can throw all your goodies in there instead of juggling multiple bags.
These outfits are so simple to throw together and are perfect for any casual outing this summer, especially the farmers market!
— Emily and Elizabeth Kennedy are twin sisters and fashion bloggers who share a blog called Fashion Column Twins. Emily writes this column. They can be reached at fashioncolumnblog@gmail.com.
Copyright 2018 The Lawrence Journal-World. All rights reserved. This material may not be published, broadcast, rewritten or redistributed. We strive to uphold our values for every story published.