Manhattan — As the election-year debate over education funding heats up, Gov. Sam Brownback has been touring the state this week promoting the success of a program that targets funding to help high school students get career and technical education.
That program, launched in 2012, provides free tuition for high school students who enroll simultaneously in an approved post-secondary job-training program. It also provides $1,000 bonus payments to school districts for each student they graduate who has earned an industry-recognized certificate in a high-demand job field.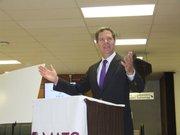 At a stop Wednesday at the Manhattan Area Technical College, Brownback presented a $23,000 bonus check to the Manhattan school district and touted the importance of the program.
"Those industry-recognized certifications get your foot in the door and they get you above minimum wage," Brownback said. "And you could make some real money with that."
The stop in Manhattan was just one of several the governor is making around the state this month. Overall, he said, the state expects to distribute $1.2 million in bonus payments to districts. He also said there has been a 200 percent increase in career and technical education enrollment since the program began.
Although the initiative enjoyed broad bipartisan support when it passed in 2012, it is unlikely to blunt criticism from Democrats who have made Brownback's record on overall education funding a centerpiece of their 2014 election campaigns.
Speaking to a gathering of Kansas Young Democrats last weekend, Rep. Paul Davis of Lawrence, the Democratic candidate challenging the governor for re-election, repeated his assertion that Brownback was responsible for the largest single cut in education funding in state history.
"Strong public schools and strong universities are the very foundation of a stronger economy," Davis said, according to a video of his speech that was posted online. "People are not going to continue to live in our state, or come to our state, if we are not supporting our public schools and our universities."
Since the start of the Great Recession in 2009, base state aid to Kansas schools was cut from $4,400 to a low of $3,780 in 2012. That included a $157 per-pupil cut between 2011 and 2012, when Congress ended the federal stimulus program that had been shoring up the education budget during the recession.
Although state revenues were recovering at that point and Democrats argued for using the money to replace the disappearing federal money, Brownback and the Republican-controlled Legislature opted to pass a package of massive tax cuts, which they argued would stimulate the economy.
"This Brownback experiment is a failure," Davis said. "There's no doubt about it."
Brownback, however, defended his record on school funding, arguing that despite cuts in base state aid, total state funding for public schools - including mandatory retirement contributions - has increased under his administration.
He also said that the career and technical education initiative marks an improvement in educational opportunities for students.
"I ran on saying we need more students to be career- and college-ready," he said. "And we've got a lot more that are going to be career-ready, and my hope is as well that we continue to improve that scale on those that are college-ready."
Copyright 2018 The Lawrence Journal-World. All rights reserved. This material may not be published, broadcast, rewritten or redistributed. We strive to uphold our values for every story published.