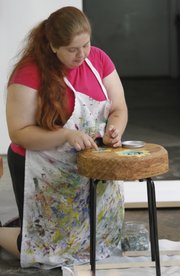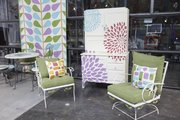 IF YOU GO
When: Saturday, 6 p.m. to 11 p.m.
Where: Clinton Lake Marina
What: Barbecue, beer and a live auction of artwork made by Van Go youth artists. Proceeds help support Van Go's job-training program for at-risk youth.
Tickets: $75 per person. $550 for tables of eight. Call 842-3797 to order. It is recommended to arrange to pick up tickets from Van Go, 715 New Hampshire St.
When speaking about her work at Van Go, 20-year-old Christina Goodyear dances between references to artwork and fine-tuning once elusive social skills. Sometimes it seems she's talking about both at once.
"I've done a lot of things I never even thought I would do," she said of her two years at Van Go.
Picking up new tools to produce art and conversing with peers after years of keeping to herself, Goodyear is among the Van Go youth employees who spent much of the first half of this year producing work to be auctioned at Saturday's What Floats Your Boat fundraiser at Clinton Lake Marina. In its 11th year, the fundraiser is annually the nonprofit's biggest event.
Eliza Nichols, Van Go's marketing director, said the event has grown from about 200 people to an expected turnout of around 600 this year. And whereas early fundraisers set targets of about $20,000, What Floats Your Boat can now be counted on to generate up to $100,000.
That's good news, Nichols said, because in addition to allowing Van Go to pay at-risk young artists while offering job-training and social support, the funds can also be used for day-to-day operations.
"This allows us to pay the light bill," she said. "The things that are not as glamorous to funders but imperative to our success."
Nichols said tickets — $75 per person or $550 for tables of eight — can still be purchased by calling 842-3797, and she recommends those interested in attending to arrange to pick up their ticket from Van Go's 715 New Jersey St. location. Included with each ticket purchase is a pass to enter the park, without which it is not possible to access the marina. The event, which runs from 6 p.m. to 11 p.m., will also feature barbecue, beer and live music.
New to this year's fundraiser, Nichols said, is a theme: "Van Go Retro." Participants in Van Go's job-training program were challenged to design and create artwork, often in the form of indoor and outdoor furniture, that features a retro or vintage aesthetic. Pie safes, fire pits with hand-hewn stools and hand-painted tee-pees and pillows will be among the items available for auction.
Annastasia Payne, 18, said she spent a lot of time repainting and helping remodel a bench purchased on Craigslist. The finished product, decked in light and bright colors, reflects hours of labor and looks as new as it does vintage.
"It was a lot of fun to work on all this," Payne said.
Like Goodyear, Payne said she struggled socially before working at Van Go. Today, she's more confident talking with others about the work soon to be auctioned off for Van Go's cause.
"This pushed me into meeting peers with similar interests," Payne said.
Copyright 2018 The Lawrence Journal-World. All rights reserved. This material may not be published, broadcast, rewritten or redistributed. We strive to uphold our values for every story published.