Is she a frontrunner in the 2016 election for president, or just a retired diplomat on a feel-good book tour? Local audiences will be able to get some up-close insight into Hillary Rodham Clinton's views on leadership and public policy when she speaks Sunday, June 22, at the Midland Theatre, in conversation with Rainy Day Books founder Vivien Jennings.
Tickets for the 5 p.m. event are sold out, but more information and coverage can be found at Rainydaybooks.com/HillaryRodhamClinton.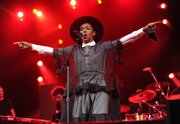 When it comes to influential women of the '90s, however, you might have better luck getting a ticket for Lauryn Hill at 8 p.m. Monday at the Uptown Theater.
The former Fugees singer and Grammy winner for Album of the Year in 1998 is visiting Kansas City for the first time since her sold-out show at the Midland in 1999.
Jazz in the Woods
Next weekend is the annual Jazz in the Woods event at Corporate Woods, near 1-435 and Antioch.
Each year for the past 25 years, Jazz in the Woods has raised thousands of dollars for charity while treating audiences to a weekend of top-flight jazz performances. This year's lineup includes Norman Brown, Bobby Watson and Mindi Abair, as well as food and drink from KC favorites like Jack Stack Barbecue, The Blue Moose and Jerusalem Cafe.
The music starts just after 6 p.m. Friday and Saturday evenings. Find more details at jazzinthewoods.com.
Gay Pride KC
Throughout the week, Gay Pride KC is hosting events culminating in a festival in the West Bottoms from Friday through Sunday.
A series of educational symposiums will take place Tuesday evening at UMKC, and an interfaith service will be held at Unity Temple (707 W. 47th St.) in support of the lesbian, gay, bisexual, transgender, questioning, intersex and asexual communities.
At 7 p.m. Thursday, the film "The Case Against Prop 8" will screen at the Tivoli Theater, and the next day a full-blown party kicks off in the West Bottoms on either side of State Line with DJs, bands and food and drink vendors. Tickets cost $5 per day, and a full schedule is online at gaypridekc.org.
Fiesta Kansas City
Next weekend, Fiesta Kansas City will be celebrating its quinceañera as the festival presented by The Hispanic Chamber of Commerce of Greater Kansas City returns to Crown Center for its 15th year.
Live music, food, drink, vendors and children's activities will be in abundance all weekend, from 5 p.m. until 11 p.m. Friday, and from noon until 11 p.m. Saturday and Sunday.
Admission is $10 per day or $20 for a three-day pass. Children 12 and under are admitted free. Find more details at fiestakansascity.com.
Street Faire
A little ways to the south, at 3300 Pennsylvania, Browne's Irish Marketplace will present its spring Street Faire, featuring live music, Irish dancing, Irish beer and whiskey, kids' activities and some of the best Irish food this side of County Kerry (I highly recommend the bangers and mash).
The Street Faire takes place from 3 p.m. to 11 p.m. Tickets are $8 in advance at Browne's Market or $10 at the door, with all proceeds going to F.I.R.E., a nonprofit organization that provides financial assistance to schools for special education services.
Art of the Car Concours
Next Sunday from 10 a.m. to 4 p.m., the annual Art of the Car Concours will showcase over 200 vintage cars, trucks, motorcycles and racing vehicles on the Kansas City Art Institute Campus (4415 Warwick).
With no formal judging taking place, the event is a more relaxed, family-friendly car event where some of the coolest old vehicles in the country will be on display.
Tickets cost $18 for adults 16 and up, and the event benefits the KCAI Scholarship Fund.
'Guys and Dolls'
The classic New York City musical "Guys and Dolls" will be performed at Shawnee Mission Park's Theater in the Park from June 20-22 and again from June 25-28.
Adult tickets are $8, and while some reserved seating is available, most attendees bring their own blankets or lawn chairs.
To buy tickets and view the entire summer lineup, visit theatreinthepark.org.
— Lucas Wetzel is a writer and editor from Kansas City, Mo. Know of an upcoming event in Kansas City you'd like to see featured in Kansas City Connection? Email us about it at kcconnection@ljworld.com.
Copyright 2018 The Lawrence Journal-World. All rights reserved. This material may not be published, broadcast, rewritten or redistributed. We strive to uphold our values for every story published.