Photo Gallery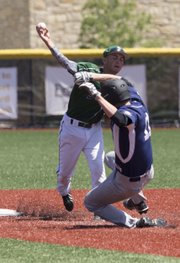 Raiders-FS Karlin
The Lawrence Raiders stepped on the Free State High baseball diamond on Friday morning and saw plenty of familiar faces in the opposing dugout.
Facing a separate team made up of Free State juniors and seniors, the Raiders struggled at the plate in a 5-0 loss to FS Karlin at the MB Tournament.
FS Karlin's Casey Hearnen was dominant on the mound, striking out nine in a complete-game effort, while allowing just two hits and two walks.
"I think I threw probably 75 percent fastballs, 25 percent curveballs, and then just worked ahead when I could throw my curveball for a first-pitch strike," Hearnen said. "It was really effective. It's nice to be able to do that and hopefully I can take that on to later in the season."
FS Karlin scored three runs in the second inning against Raiders' starter Briggs Fish. Hearnen singled, stole second and scored on a single from Marcelino Cortez. The other runs were through a wild pitch and an error.
In the fifth, Tripp Wright and Mikey Corbett hit back-to-back singles to open the frame before Wright scored on a single to center from Trevor Munsch. Corbett later gave FS Karlin its 5-0 advantage by scoring on a wild pitch.
Was there a little motivation for FS Karlin players going up against some of their former teammates?
"Yeah, a little bit," Cortez said. "We get to play our friends and a little bragging rights for the most part."
Fish avoided any further trouble, tossing a complete game and allowing the Raiders to save some pitching for the rest of the weekend. The only problem was trying to hit the ball against Hearnen.
However, in the nightcap against St. Joe, the Raiders (2-6) had no problems swinging the bats in a 10-9 loss.
Easton Barnes and Ryan Cantrell hit back-to-back triples during a three-run second inning.
"I think we were a little more locked in after getting embarrassed by a younger team like that," said Cantrell, who went 3-for-5.
In the fourth, Drew Green fell behind in the count, 0-2, after two borderline strikes. Two pitches later, he left nothing to interpretation, drilling a two-run home run over the left field fence.
"There was a little frustration in that swing," Green said, "so right when I got it, I was like, 'Yeah, that's got a chance,' and the ball was carrying today. So I knew I had a chance.
"I knew they weren't going to give me too much to hit and he had been working me out(side)," Green added. "So I was like, either he's going to bury one (in the dirt) or he's going to go away. I saw it away, and I just unloaded."
His two-run blast tied the game before the Raiders added three more runs on a two-out rally, highlighted by an RBI single from Fish, and a two-run single from Nolan Prochaska, after his fly ball was lost in the sun by St. Joe fielders.
The Raiders would only score one more run for the rest of the game — a RBI fielder's choice from Zach Bickling — as St. Joe scored five runs over the last three innings to take a decisive lead in the seventh inning. St. Joe also took advantage of a few errors.
"Normally with our struggles at the plate, when we score nine runs, we feel pretty good about it," Raiders coach Brad Romme said. "Some things just came unglued tonight. But much better approaches at the plate, we were getting on some fastballs early. I think if we just stick with that, we're going to be OK."
The Raiders play two games today at FSHS, starting at 11:15 a.m. against SED Sports.
Raiders 000 000 0 — 0 2 1
FS Karlin 030 020 x — 5 7 0
W — Casey Hearnen. L — Briggs Fish.
Raiders highlights — Fish, 6 IP, 4 ER, 3 Ks, 1-for-2; Easton Barnes, 1-for-2, HBP.
FS Karlin highlights — Hearnen, 7 IP, 2 H, 0 R, 2 BB, 9 Ks; Marcelino Cortez, 1-for-2, RBI, SB; Tripp Wright, 1-for-2; Mikey Corbett, 2 HBP, 2 runs; Trevor Munsch, 1-for-1, HBP, RBI; Jacob Holiday, 1-for-2, Heath Milner, 1-for-2.
St. Joe 005 013 1 — 10 12 0
Raiders 030 510 0 — 9 14 4
L — Nate Hulse.
3B — Easton Barnes, Ryan Cantrell. HR — Drew Green.
Raiders highlights — Cantrell, 3-for-5, RBI, SB, 2 runs; Green, 2-for-2, 3 walks, 2 RBI; Briggs Fish, 2-for-4, RBI, 2 runs.
Copyright 2018 The Lawrence Journal-World. All rights reserved. This material may not be published, broadcast, rewritten or redistributed. We strive to uphold our values for every story published.