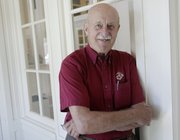 For decades, Pieter Berendsen kept the stories to himself. The bomb craters that crept closer to his family's home. The brutal winter when a sugar beet pulled from the ground had to be shared by all. The German soldiers who ordered his father to stand against the house, their rifles ready.
But Berendsen, a geologist who lives in Lecompton and still consults at the Kansas Geological Survey, is talking now in hopes he can prepare himself to write it all down one day.
A recent presentation at the Lecompton Historical Society was just the second time Berendsen, 79, said he discussed growing up in Nazi-occupied Netherlands during World War II.
"As you can imagine," he said, "it brings back painful memories."
Berendsen left his homeland on a ship carrying immigrants from the Netherlands to Canada in 1960 and later settled near Lecompton with his wife, Lynda, in 1974. A passion for geology, forged as a teenager back home, wasn't the only thing Berendsen brought with him to North America. The shadow of war, which enveloped Berendsen's home for five years, sat like a lump in his throat that wouldn't budge.
'In the midst of it'
Near Bilthoven, the small Dutch town Berendsen called home, occupying German forces loomed large from May 1940 until Canada liberated the Netherlands in 1945. A railroad that cut through town, and still among the country's busiest, became a target for bombings and sabotage, Berendsen said. Meanwhile, the lower half of the home in which Berendsen's family lived was occupied by German soldiers. These housemates, he said, were not as sinister as the S.S. soldiers who roamed the town. Instead they were bakers and bricklayers thrust into service.
A Nazi general erected his bunker near Berendsen's home, and Berendsen said moving freely grew difficult as barbed wire webbed through Bilthoven.
"We were really in the midst of it," he said.
The imprecise nature of bombing in the 1940s, Berendsen said, resulted in craters surrounding their home created by errant missiles intended for bunkers, railways and a nearby airbase. When he returns home to visit his older brother, Berendsen still doesn't have to walk far into the woods to find such craters that remind of the area's dark past.
Life-saving tobacco
Whereas food or tickets to purchase supplies were distributed in the early stages of occupation, supplies dwindled as war wore on. By winter 1944, Berendsen said, his family scrounged for potatoes and beets on a plot of dirt outside their home. By war's end, the then 11-year-old Berendsen was moved to another part of the Netherlands to gain weight after losing half of what he says he should have weighed.
Near the end of 1944, allies controlled the airspace and Germans would park vehicles in canals and trenches under the roadways to try to avoid being detected by troops in the air, Berendsen said. Prisoners of war were tasked with digging manholes that Germans could dive into to avoid being shot if attacked. One day a prisoner escaped and tore through the Berendsens' backyard. Sure that the prisoner hid inside Berendsen's home, an irate commander and about five soldiers ordered Berendsen's father to stand against the house. Berendsen said his father could speak German, but the situation was still very threatening.
"They were fairly trigger happy then," he said.
Upstairs, Berendsen's 16-year-old brother hid in a closet, holding out hope the Germans wouldn't comb through the house. At the time, Berendsen said, teenagers would be arrested and recruited to join the Germans.
A can of tobacco, grown outside by the family and fermented in a closet, helped quell the situation, Berendsen said. The commander calmed after his mother offered him the tobacco and the family avoided further trauma.
Residual habits
Berendsen said he and his brother developed a knack for stealing items such as land mines and machine guns and hid them in the woods behind the home. He also served as a lookout for his brother as he distributed an underground newspaper to Dutch loyalists.
Liberation did not produce immediate comfort, nor did it result in a healing of bad habits Berendsen picked up while trying to get by. Electricity and gas were gone. Just a fraction of the country's water, infrastructure and agrarian resources remained. And Berendsen continued to steal what he needed, or thought he needed, like enough Lucky Strike and Philip Morris cigarettes to sustain a two-pack-a-day habit he developed by 11.
He said he stole from the Canadians, too, which was easy after his family was granted access to a shop in exchange for his mother washing clothes for the troops. The habit continued after the Canadians left, Berendsen said, and soon he found himself in custody for stealing and ordered to undergo therapy.
Berendsen said therapy helped make clear theft wasn't acceptable. But the underlying scars that remained healed far more slowly.
'It's important to know'
For years, Lynda Berendsen, a retired teacher, told her husband she thought he should write down his recollections of the war and living in the Netherlands at the time. Pieter said he resisted for years. But as his children grew older, one, a major in the Marines, began to lean on Berendsen after several tours in Iraq.
Opening up now, Berendsen said, serves as a precursor to putting it all on the page. He's not sure whether, when he finishes writing, he will publish or keep the document as a history text to be shared with family.
"I'm getting older," he said, "and I think the main part for my family is it's important to know what happened. These people these days are interested in genealogy. When I grew up it was taboo. You didn't talk about it. Important information was just lost."
The other night at the Lecompton Historical Society, Berendsen talked to a Vietnam War veteran who said that although you may not want to talk about such experiences, the words still needed sharing.
"I'll probably have a few bad nights where I wake up or dream about it," Berendsen said. "The memories come back. We'll just get over it again and learn to live again."
Copyright 2018 The Lawrence Journal-World. All rights reserved. This material may not be published, broadcast, rewritten or redistributed. We strive to uphold our values for every story published.