Mary Doveton has been waiting a long time for this.
"It's a show that's been on our wish list forever," she says of Rodgers and Hammerstein's 1951 classic "The King and I," which opens Friday at Theatre Lawrence.
The problem has been the space. The group's old building at 1501 New Hampshire St. had a stage that was only 16 feet wide.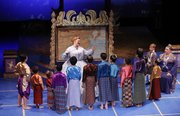 If you go
"The King and I" opens Friday at Theatre Lawrence and runs through June 29. All performances are at 7:30 p.m., except Sundays when they are at 2:30 p.m. Tickets are available by calling the Theatre Lawrence box office at 843-7469 or online at theatrelawrence.com.
"It was never big enough to accommodate the hoop skirts," she says with a laugh. "There's one scene where we've got nine people onstage wearing hoop skirts. The hoop skirts are their own character."
The show also requires a sizeable cast that wasn't practical in the old building. Doveton reports there are 42 people in the cast, 13 of which are children younger than 12.
"It's a wonderful show for the stage," she says. "There are so many opportunities to bring characters and glitz and spectacle to the audience."
Twelve-year-old Liam Elliott, who plays Prince Chulalongkorn, is caught up in it.
"I get carried on in this huge sedan chair," he says of one scene that emphasizes the musical's pageantry. "It's so awesome!"
The show, which is based on Margaret Landon's 1944 novel "Anna and the King of Siam," takes a romantic view of history. Indeed, the novel itself is a romanticized version of the memoirs of Anna Leonowens, who acted as governess to King Mongkut of Siam in the 1860s.
"It's different from a gritty exploration of historical themes you might find in a modern musical," Doveton says. "It's basically a love story, and you've got so many different kinds of love. In addition to the romance between Anna and the king, you've got the love a mother and a son, a father and a son, a father with many children, the dedication of Lady Thiang to the king, and of course, the cross-cultural appreciation. Those love stories and the magic and mystery of the East were the primary things that appealed to the audiences of the times."
But if it's a charming, fictionalized version of history aimed at an audience from a bygone day, "The King and I" hasn't lost its appeal to Doveton or her cast. The show has drawn a wide mix of actors.
"A large portion of the cast is onstage for the first time," Doveton says. "From kids to adults. We've got some veterans and a lot of fresh faces."
One of those newcomers is Ashton Rapp, 10, who plays Anna's son, Louis. A member of the Lawrence Children's Choir, Rapp was looking for opportunities to expand his repertoire.
"My mom looks for plays and things I can do every day," Rapp says. "She found this one, and I'm glad."
Doveton thinks it's been worth the wait to finally get this classic of American theatre on the Theatre Lawrence stage.
"It's a great show for the whole family," she says.
Elliott agrees. Already a veteran at age 12, he wanted to audition for this, his third appearance at Theatre Lawrence, because he'd enjoyed watching the Yul Brynner film with his mother and grandmother.
"When you see my role," he says, "you won't know it's Liam. We get to transport the audience to a different time and place."
Copyright 2018 The Lawrence Journal-World. All rights reserved. This material may not be published, broadcast, rewritten or redistributed. We strive to uphold our values for every story published.